Obituary for George Harrell Edmiston, Sr
Published in the Charlotte Observer on Sept. 3 and Sept. 4, 2014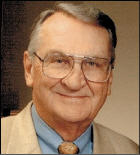 George Harrell Edmiston, Sr. FORT MITCHELL, KY - George Harrell Edmiston, Sr., 84, of Ft. Mitchell, left this life to be with the Lord on Saturday, August 30, 2014. His life was dedicated to his Christian faith, his family and serving different communities while enjoying a wonderful career in the YMCA. Born in Petersburg, TN, in his family's home, he spent his childhood in Monticello, AR, Guthrie, KY, Venice, FL, and St. Augustine, FL where his father was General Secretary (President) of the YMCA. George attended Centre College in Danville, KY where he played basketball, joined Beta Theta Pi Fraternity and, most importantly, met his wife of 63 years, Zan Mary Gray of Brownsville, TN. After Centre College, George moved to Tallahassee, FL to attend Florida State University where he lettered in basketball and became an All-American in volleyball. George obtained a Masters Degree in Social Work from Florida State. He married Zan Mary Gray in 1951. After graduation, George began his career in "Y" work, serving the YMCAs of Louisville, KY, St. Augustine FL, Danville, VA, Northern Kentucky, and finishing his career as President of the YMCA of Greater Cincinnati and Northern Kentucky. While serving the YMCA for 40 years, his greatest love was helping the underprivileged, and enjoying the many friendships he developed throughout the country. Among the many organizations he served besides the "Y" are the Lakeside Presbyterian Church, the Rotary Club, The Children's Home of Northern Kentucky, the Ft. Mitchell Country Club and The YMCA Blue Ridge Assembly in Black Mountain, NC. Though George enjoyed many pastimes, his greatest passion was the game of golf, it's rules and the quality of character it requires. George is survived by the love of his life, Zan Mary Gray Edmiston. Together they have four children and eleven grandchildren. Oldest son, George H. Edmiston, Jr. and his wife Randi live in Charlotte, NC. They have three children--Thomas Cluderay, Rackin Holland (Will) and Mary Alex Edmiston. Son Robert Gray Edmiston and his wife, Pamela, of Ft. Mitchell, KY have three sons--Reed Gray Edmiston, William Ross Edmiston and Samuel Winston Edmiston. Son John Warren Edmiston and his wife, Cordelia, of Glendale, OH have three children-Leander Gabriel Edmiston, William Campbell Edmiston and Lillian Rose Edmiston. George and Zan's youngest child, daughter Mary Louise Clark and her husband, Raymond, live in Franklin, TN and have two children-Alexandra Mary Clark and Raymond Schoenling Clark, Jr.