Obituary for Chris Banakas
Published in Pensacola News Journal on Dec. 18, 2014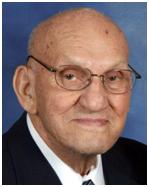 Chris Banakas
1924-2014
Chris Banakas, 90 years old, went home to be with The Lord on December 15, 2014. He was born in Albany, GA on August 8, 1924. His family moved to Pensacola in 1942. Chris joined the Army, without finishing high school, and served in WWII from 1943-1945. When he returned from the war, Chris finished his education and became a graduate of Florida State University in 1950, later he obtained his Masters of Education. During his years at FSU, Chris played on FSU's first football team and participated in the Flying High Circus as a "deadpan" clown. After graduation, Chris met and married the love of his life Melba Lowry. They were happily married for 64 years.
He began his 38 year career as an Educator at Escambia High School, a job at which he excelled and dearly loved. First as a teacher and coach, then he worked his way through Dean, Assistant Principal, Principal, then later at the County Office as Director of Transportation and Maintenance and finally retiring as the Director of the Book Depository. His early years in Education earned him the nickname of "Coach." He touched so many different lives during his career that even at 90, adults would still affectionately address him as "Coach".
In 1961, Chris joined the First Baptist Church of Pensacola. He quickly found a loving and caring group of people that influenced the remainder of his life. Chris' love of cooking for others lead him to many different ventures from the "Challenger Banquet" to feeding the homeless. He often said that God didn't gift him with the talent of "voice" but instead gave him the talent to feed people and that was his way of witness.
All his life he loved people. In his later years, his sense of humor found root and became legendary. He could always be counted on to relate to his friends a humorous story. He loved to make people smile and laugh. Chris was a "Depression Child" and learned early not to take anything for granted. He valued his relationship with God, his church and his family. One of his favorite stories was about getting a brand new pair of shoes, they didn't match, one was brown and one was blue, but that didn't matter, they were his. He said not everyone had a "new" pair of shoes to wear to school.
He is preceded in death by his parents, George and Catherine Baniakas; his brother, George and his sister, Helen Melton.
He survived by his wife, Melba L. Banakas; daughter, Kathryn Edman (Gregory); his grandchildren, James G. Edman and Jessica L. Edman; a brother, Perry Banakas and sister Rebecca McAuthur.