Obituary for Joseph Smith Crona
Published in the Pensacola News Journal from February 25 to February 27, 2012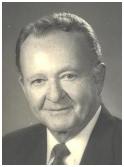 Joseph Smith Crona, age 84, died peacefully at The Haven of Our Lady of Peace, on Thursday, February 23, 2012. Joe, a native Pensacolian, was born on March 26, 1927 to Oscar Gregory Crona and Ethel Smith Crona, in the old Sacred Heart Hospital, on North 12th Avenue. He attended local schools, graduating from Pensacola High School, where he was an outstanding football player. Being drafted into the Army during World War II, he trained with the 82nd Airborne Division and served in France and Germany until the end of the war. He then attended Florida State University, where he was a member of the first F.S.U. football team in 1947, playing offensive center, defensive linebacker, and kicker, later being dubbed "Joe, the Toe" for several game-scoring field goals. He was a member of Kappa Alpha Fraternity, and modeled for McGregor Sports Line. Being paid in clothes, rather than cash, earned him "Best Dressed on Campus" at graduation. Graduating with a degree in Economics, Joe returned to Pensacola, working at the Citizens and Peoples National Bank in the Trust Department, later being elevated to the Trust Officer. In 1971 he moved to Commercial National Bank as Executive Vice-President, becoming President of Commercial and all its successors - Charter National, Century National, and in 1982, Sun Bank, where he was President/CEO until his retirement on March 31, 1994, having spent 40 years in the banking business. He always laughed and said he was president of four banks and never left his office! Through the years, he was active in The Pensacola Sports Association, serving as president and tournament director of the Pensacola Open during its early years at the Pensacola Country Club. He was a member of the Pensacola Area Chamber of Commerce, Committee of 100, United Way, Navy League, and many Mardi Gras organizations. He was a past president of Pensacola Country Club and Fiesta of Five Flags, having been a knight in the Fiesta Court of 1962, and in 1989, he wore the mask of Don Tristan DeLuna. After his retirement from Sun Bank, he was instrumental in putting together a Board of Directors for Central Bank of the South, based in Birmingham, AL, which later became Compass National Bank, now BBVA Compass, serving as its Chairman of the Board and bank consultant. He was also part of a group of twelve men that secured the financing and oversaw the construction of the Memorial to World War II veterans located in Veterans' Park. He pursued his love of sports and the outdoors, playing golf and tennis, hunting in the northwest and Alabama, and fishing the gulf coast. With his father-in-law, Wally Dashiell, he hunted the Texan Hill Country for 40 years. He followed his beloved Seminoles, attending many of their games from Tallahassee to Michigan, including a special recognition event for the fiftieth anniversary of the first team. Joe was predeceased by his brothers: James Theodore Crona (Tallahassee, FL), Oscar Gregory Crona (Providence, RI), and Earl Crona (Pensacola, FL) , as well as two sisters: Louise Crona Tharp (Atlanta, GA) and Thelma M. Crona (Memphis, TN). He is survived by his loving wife of 57 years, Diane Dashiell Crona; daughter, Susan Crona Smart, and two grandchildren, Joseph Trenton Smart (29 yr.) and Sydney Dashiell Smart (22 yr.), both of Breckinridge, CO, as well as nieces, nephews and countless friends.