Obituary for Joseph F. Lester
Published by Mayes Family Services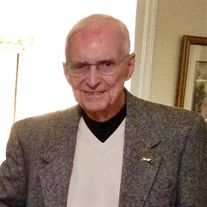 Joseph "Joe" F. Lester, age 87 of Morristown, passed away Saturday, April 11, 2015. He was a member of the First Baptist Church of Morristown. He served in the US Army before graduating from Florida State University. Joe taught school and coached basketball at Newport and Morristown High Schools for seven years before he opened up Joe Lester State Farm Insurance Agency in 1960. He served on The Morristown Utility Commission for 17 years. Joe was a charter member of The Country Club of Morristown and was an avid golfer.
Survivors include his wife, Joan; daughter, Joi (John) Corn of Dacula, GA; granddaughter, Gillian Barlow of Atlanta, GA; brother, Tommy (Jeanie) Lester of Knoxville, TN; sister, Betty (Richard) Hackman of Midlothian, VA; several nieces and nephews; and special nephew, David Long. Joe and Joan celebrated their 60th wedding anniversary on July 31, 2014.