Obituary for Wayne W. Benner
Published in the Florida Times-Union on Sept. 10, 2015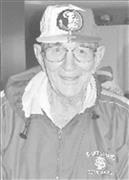 Mr. Wayne W. Benner, better known as Coach Benner, age 88 of Fernandina Beach, passed away at his home on Tuesday morning, September 8, 2015. Born in Laporte, IN, he was the eldest and last living of two sons born to the late Darrell Augustus and Helen Ruth Benner. He grew up in Laporte and graduated from Laporte High School, Class of 1945. After high school he enlisted and served in the U.S. Army. Upon being honorably discharged he returned home and enrolled at and attended the University of Indiana. After two years he transferred to Florida State University where he graduated with a Bachelor's Degree in Physical Education. While attending FSU he played baseball and football where he was part of the first undefeated football team in the state of Florida in 1950. Shortly after he was drafted by the Cleveland Browns and New York Yankees. At the time of his graduation, he began a long career coaching and mentoring young people through local school sports programs. He initially accepted a job at Live Oak High School in Suwanee County before going to Woodbine in Camden County, GA. From 1954 until 1969 Coach Benner coached at Fernandina Beach High School. In 1969, he moved to the Middle School where he remained until retiring in 1983. After retiring he continued to substitute teach as needed. Coach Benner had attended the Lutheran Church when they were meeting at the Atlantic Avenue Recreation Center. He is preceded in death by his wife, Eloise who passed away in 1997, his brother, Jake, three sons, Stanley, Jerry, and Frank, and two grandchildren. Coach Benner leaves behind, two sons, Darrell Benner and his wife, Patty Mills Benner, Fernandina Beach, FL, Joey Joe Benner and his wife, Josephine, Fernandina Beach, FL, a daughter, Sherry Graddy and her husband, Frank, Gainesville, FL, a daughter in law Shannon Keith, Fernandina Beach, FL, seven grandchildren, Cassie McCook (Matt), Laurel Sapp (Barry), Emily Graddy, Jared Graddy, Miki Hartman (Chad), Melissa Benner, Zachary Edenfield and five great grandchildren, Jackson, Bentley, Haylie, Presley and Andrew.