Obituary for Carlee Hendrix
Published by Beach Funeral Homes - East, Melbourne, Fl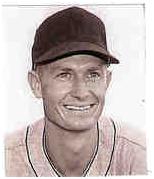 Carlee Hendrix, 76 of Satellite Beach, passed away March 4 after a long battle with Alzheimer's and Parkinson's diseases. He was born December 14, 1934, in Homerville, Georgia to Lelon and Maggie (Taylor) Hendrix. Raised in Panama City, Florida, he graduated from Bay County High School. He played 4 years of varsity baseball at Florida State University and was elected captain his senior year. Immediately after graduation he signed a contract with the Pittsburgh Pirates and played one season with their Clinton, Iowa farm team. Carlee married his college sweetheart, Christine Ginocchio, Christmas 1957, and promptly faced military draft. He chose to serve in the Marine Corps Reserve and later completed his obligation with the Air Force Reserve. He moved his young family to Idaho Falls, Idaho, to play a second pro baseball season but suffered a career-ending injury during a game. Carlee was employed next by Argonne National Lab, a company researching peacetime uses of nuclear energy. In 1967 the Hendrix family returned to Florida when Carlee accepted an offer from Boeing to work on the Apollo (moon shot) program. Later he joined Harris Corp., then known as Radiation, in Palm Bay, and retired after 25 years. He was a natural athlete, excelling in many sports, especially baseball and tennis. In Idaho Falls he managed and played on a fast-pitch softball team and was an All-State All-Star shortstop. He was a member of the Idaho Alpine Club, scaling mountains including the Grand Teton in Wyoming. He coached Satellite Beach Little League teams for many years as well as an 18-and-over women's slow pitch softball team and a county All-Star Little League team. Carlee won several medals in the Palm Bay Senior Olympics and served on the committee that developed the DeSoto Parkway Sports Complex. He was a 5-rated high school football official with the Mid-Coast Officials Association and also served as a football scout for Florida State University. He was a member of the Brevard Seminole Boosters and Kiwi Tennis Club. Carlee was predeceased by his parents and sister, Doris Davis. In addition to his wife of 53 years, Christine, he is survived by daughters Carol Hendrix, Tallahasse; Cheri Hendrix (Dixie Pennington), Annapolis, Maryland; sons Craig Hendrix, St. Cloud; Christopher Hendrix (Tiffany) West Melbourne; Carl Hendrix (Lydia), Longwood; nephew Robert (Sandy) Ryder, Miami; and grandchildren Ashlyn Hendrix and Carson Hendrix, Longwood, and Alyse Hendrix and Bryce Gerhart, West Melbourne.