Obituary for Anthony Victor Blasucci
Published by Anderson Patterson Funeral Services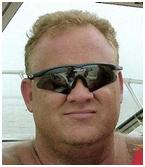 Anthony "Tony" Blasucci, 52 of Ft. Myers, Florida joined his mother, Beverly (Watkins) Blasucci and sister, Sue (Blasucci) Owens into eternal rest on Wednesday, May 28, 2014. Anthony was born to Anthony Joseph and the late Beverly Blasucci of Miramar, Florida. He attended Florida State University, where he pitched under Coach Mike Martin before being drafted by the Pittsburg Pirates Organization in 1983. He continued to play several years with the Chicago White Sox and ending his career with the Seattle Mariners. He enjoyed fishing with friends and spending time at the beach whenever possible.
Anthony is survived by wife, Kristine (Podulka) Blasucci; sons: Anthony J. Blasucci and Nicklaus S. Blasucci; his father, Anthony J. Blasucci; sister, Lisa Blasucci; mother in law, Betty Podulka; brother and sister in laws: Bill Owens, Kimberly Podulka, David and Kathleen Molloy, Stephen and Vicki Podulka, Stanley and Shawntae Podulka; many nieces and nephews and dear close friends.
One of Tony's greatest joys was watching his youngest son, Nick, play baseball. Almost every day, you could find Tony and Nick working on his hitting, pitching, or fielding. The family is committed to staying strong and rallying around this common goal to support Nick on this path, so that his father can continue to proudly look down from heaven. In order to best honor Tony, they feel that the most meaningful thing that can be done is ensuring his hope to see his son, Nick follow their shared dream of baseball.