Obituary for Chester V. Cole
Published in Citrus County Chronicle on Apr. 30, 2017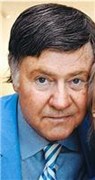 Chester V. Cole, 72, of Lecanto, Florida, went to be with his Lord and Savior Jesus Christ on April 23, 2017. He was the first born of James R. and Deloris G. Cole on March 19th, 1945 in Toledo, Ohio. Chet graduated from Satellite Beach High School in 1963 and was active in basketball and baseball. He continued his education at Florida State University where he earned his bachelor's and master's degrees and was also a member of the FSU baseball team, participating in the 1965 College World Series.
In 1971, he accepted the position of Executive Director of the Key Training Center in Lecanto, FL. From 1971 to his death, he served the Key Center and its many clients with unrivaled passion and work ethic. Under Chet's leadership the Key Center grew into one of the leading facilities for developmentally disabled adults in the country. Chet brought unprecedented awareness to the Key starting events such as Run for the Money, annual celebrity auction and annual telethon. He leaves behind a legacy as a fighter and staunch advocate for what he called, his people.
Chet and his late wife Carol, of 49 years, raised 4 wonderful sons, Benjamin, Schuyler, Christopher and Zachary. He was a devoted husband, father and grandfather. His greatest joys in life were his 4 boys and his loving family. He was a loving and caring grandfather to Josh, Anthony, Brandon, Austin, Ethan, Levi, Caydence and Tyler.
He loved to attend and support, in any way he could, all the sports and activities of his family. He was an avid sports fan, highlighted by his love for Florida State University athletics. He was a lifelong Seminole Booster and season ticket holder. He played semi pro baseball and later traveled the state playing softball for many years. He was also an avid runner for the majority of his life and was always active. He served on several board of directors and was active in numerous civic groups.
He is survived by his four sons, seven grandchildren, sister-in-law Linda Cole and two daughters-in-law Amy and Julie Cole. His wife Carol, of 49 years, passed away in December, 2016 after a battle with cancer. June 25, 2017 would have marked their 50th wedding anniversary.
There will be a Time of Remembrance for family and friends on Thursday, May 4th from 5-8 pm at the Chet Cole Life Enrichment Center, on the campus of the Key Training Center in Lecanto.