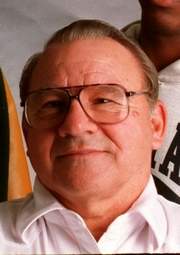 From the Tallahassee Democrat
March 31, 2009
Gene Cox, the legendary football coach who mentored a generation of Tallahassee's young men, died Monday evening. He was 74.

Cox coached at four high schools in a storied career that saw him become the state of Florida's all-time winningest coach in the fall of 1987. He spent a combined five seasons at Jefferson County and at Suwannee County before beginning a remarkable 28-year run at Leon that saw him build the Lions into a regional - and national - power.

His Leon teams won two state championships (1969, 1974) and were state runners-up twice. Cox also saw no fewer than 114 of his former Leon players sign college scholarships.

"If you think of Leon High School, you can't help but think of Gene Cox," said Leon principal Rocky Hanna, who played for Cox at Leon.

Cox's second oldest son, Alan, said his father suffered a heart attack around 6:45 p.m. after completing his daily workout on a treadmill. Gene Cox, Alan said, didn't drink or smoke.

"He never missed a day of school, mainly because of football. He had no vices - well, his only vice is he liked to win. And he made no beans about that," Alan Cox said.

Cox is survived by his wife Patsy, 74; children David, 50, Alan, 49, Gary, 45 and Cynthia, 40; and five grandchildren.