Obituary for Robert F. Elliott
Published in The Washington Post on Oct. 23, 2015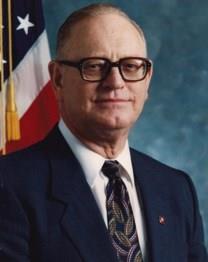 Robert F. Elliott (age 81), beloved father and grandfather, passed away peacefully in the presence of loved ones on October 20, 2015. He is survived by his dear wife of 56 years Leticia, and his five children, Robert, George and wife Wendy and son Ian, Grace and husband Steve Fogle, Elizabeth, John and wife Maria and son Alex.
Born in Texas to Theodore and Marie Elliott, Robert was raised in St. Petersburg, Florida. An Eagle Scout, choir member and four-letter man at St. Paul's high school, he went on to graduate with a B.S. in Physical Education from Florida State University in 1957, where he played varsity football for the Seminoles.
Upon graduation, he joined the U.S. Army and bravely served thirty-five years. After spending his first five in military intelligence as an enlisted man, he received a commission in the Medical Service Corps in 1962. As an MSC officer, Robert spent twenty years overseas, including two combat tours in Vietnam and assignments in the Dominican Republic, Paraguay, Panama, Germany and El Salvador. Robert continued his education during this time, earning two Master's degrees in Human Relations from the University of Oklahoma and International Relations from the University of Southern California.
In 1992, after a distinguished career in which he earned many honors, including the first Combat Medic Badge awarded to an MSC officer during the Vietnam War, Robert retired with the rank of full Colonel.
From 1992 to 2007, Robert continued to serve his country and fellow soldiers as a member of the Senior Executive Service for the Department of Veterans Affairs. He counted among his proudest achievements, his participation in the selection and vetting of 100 United States WWII veterans for receipt of France's highest award, the Legion of Honor. In appreciation of his efforts, the French government presented him with the Bronze National Defense Medal, an accolade reserved for those who provide services particularly important to France.
Robert was also an active member of the 82nd Airborne D.C. Chapter and Military Officer's Association of America. He played a key role in keeping his fellow veterans aware of the latest updates to retirement benefits as well coordinating the annual Memorial Day parades.
Robert's enduring legacy will be his tireless devotion to God, family and country. He will be buried in Arlington National Cemetery with full honors at a date to be determined.