Obituary for E. Bruce Darsey
Published in The Times Record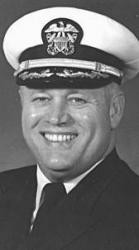 Captain E. Bruce Darsey, U.S. Navy (retired), went to his Heavenly Home on Feb. 26, 2014. He died peacefully of complications from prostate cancer, with his loving wife, Donna, by his side.
He was born in 1941 in Largo, FL, the son of Howard and Erma Darsey. He grew up in Largo and attended Largo High School where he played football and participated in many activities. He attended Florida State University on a football scholarship, where he played as the starting center for the Seminoles. He was a gifted student and graduated with a bachelor of science degree in science education. His love for learning lasted his lifetime.
He had offers to play professional football upon graduation from FSU, but instead joined the U.S. Navy to pursue his passion for aviation and for serving our country. He entered Naval Aviation Officer Candidate School and was commissioned an Ensign in February 1964.
Bruce met the love of his life, Donna Fallgatter, in San Diego. They were married in 1966 and were blessed with two children, Rebecca and Stephen.
Bruce and Donna were a strong team and the family adjusted to many moves all across the country. In his Navy career, he was a P-2 and P-3 Orion pilot as well as T-28, T-2 and C-1. He was Assistant Navigator of USS Enterprise and was designated CINCPACFLT Jr. Shiphandller of the Year in 1973; Navigator of the USS Dwight D. Eisenhower; Commanding Officer, Patrol Squadron TEN Nov. 1980- Nov. 81; and Commanding Officer, Naval Air Station, Brunswick, ME from Oct. 1987-Oct. 1989. He served at the Pentagon and the Bureau of Naval Personnel, as well as other tours of duty. He graduated from the U.S. Naval Postgraduate School, Monterey, CA with a master of science degree in management science. Capt. Darsey was pleased to be a representative to the 50th Anniversary of the Battle of the Atlantic in Liverpool, England in 1993.
Capt. Darsey retired from the Navy in 1994 after 31 years of distinguished service. He received many medals and ribbons including the Legion of Merit.
After retirement, he remained an active member of the Brunswick/ To p - sham community. He served on the Brunswick Task Force, petitioning in Washington to keep Naval Air Station Brunswick off the base closure list. He flew for the Maine State Forest Service and also worked for the Maine State Approving Agency for Veterans' Education. Bruce was awarded the Joshua Chamberlain award in 1996 for his involvement in military and civic affairs. Hiking and camping were two of his passions and he hiked and maintained both the Appalachian Trail and the Florida Trail. He was a member of the Association of Naval Aviation (ANA), Navy League, American Legion and lifetime member of MOAA.
Bruce and Donna moved to Dunnellon, FL in 2001 after enjoying nearly 20 combined years in the Brunswick area where they made many wonderful lifelong friends.
He is survived by his beloved wife, Donna; daughter Rebecca of Davis, CA; son Steve of Roswell, GA and grandchildren Elana, Davin, and Bryce who knew him lovingly as "Poppy"; sister Phyllis; and many treasured family members and friends. He was extremely proud of his family.