Obituary
From the Tallahassee Democrat
September 16, 2011
By Jim Lamar, Democrat associate editor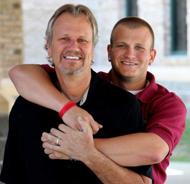 Jimmy Everett and
son Tyler in 2010

Jimmy Everett, one of the Tallahassee sports community's beloved sons, died at 8:30 p.m. Thursday. He was 57.

A longtime coach, athletic director and assistant principal at Lincoln High, Everett was diagnosed with ALS (more commonly known as Lou Gehrig's Disease) in the winter of 2009. He continued working at Lincoln through this summer, when he retired after 24 years at the school.

He is survived by his mother, Virginia; wife, Sondra; son, Tyler; sisters Geni and Nancy; and brothers Randy and John.

"Jimmy was always the good guy," said Ricky Bell, the director of athletics for Leon County Schools. "He was always the coach that could get his point across to the kids without fussing at them. He could talk to them in a good tone of voice and they understood what he said. It was never in anger. He coached the same way he lived his life. He was such a likeable person."

Everett spent his final days at home under the care of Big Bend Hospice. Those who knew him best said he never once complained about ALS — not even at the end.

"The thing that strikes me most is the grace, the dignity and the way he handled himself the last few years," Lincoln assistant principal and former football coach David Wilson said. "The way he carried himself and the outlook he had. To me, that is Jimmy's finest hour. His greatest moment.

"Games are won and lost, but I think he's left such a powerful message for students and this community with the way he dealt with this situation."

Lincoln athletic director Paul O'Halloran said Everett found a way to touch lives even in his final days.

"The last time I saw him, just speaking was a great struggle for him but somehow he perceived that I needed to be thanked for something and those were his last words to me," O'Halloran said. "He told me 'thank you' and I left his house thinking this man somehow is not feeling sorry for himself but is concerned about me. It was unbelievable.

"He is going to be sorely missed in Tallahassee but particularly at Lincoln, where he was loved and admired by teachers, staff, and students alike for many, many years."

Everett was a star quarterback at Godby High in 1972 when he signed a scholarship to play receiver at Florida State. It was the same school where his father, Pete, was the head of the Physical Education department.

After his playing career at FSU ended in 1975, Everett continued to shine as a standout on local adult-league softball and flag-fooball teams. He even played softball with his father on many of those teams.

Everett remained close to many of those teammates through the years and a handful of those men helped establish a scholarship foundation in Everett's honor in 2009 that now assists local high-school athletes with their college tuition.

The Childers-Everett Foundation awards scholarship money to college-bound student-athletes based on athletics, academics and community service.

"Jimmy has been an icon in this community," said Randy Pridgeon, the director of secondary schools for Leon County Schools. "Not just with sports, but with kids. That's why it is so important for us to keep this scholarship going. That's what he would have wanted to have. Those are the types of kids Jimmy loved coaching."

Everett touched two generations of local athletes and students as a beloved coach, athletic director and administrator. Beginning in 1979, he spent nine years as an assistant football coach at Leon where he also became the school's track and field coach. It was there that he coached many of the men he would later consider his closest friends.

Fairview Middle School principal Scott Hansen and Leon principal Rocky Hanna are two of those men.

"Not many in our community have touched as many lives as Jimmy Everett did," Hanna said. "I know his son Tyler mourns for the loss of his father. So do hundreds and hundreds of once-young boys that Jimmy taught to become young men."

Hansen said he never heard anyone say a bad word about Everett.

"What a wonderful, wonderful guy," Hansen said. "He was always down to earth. He was full of life. Very personable. He would come up to anybody he saw and start talking to them. He was one of those rare people that everyone liked."

After coaching nine years at Leon, Everett hoped a move to Lincoln in 1986 would position him to take over as the Trojans' head football coach. He was instead promoted to athletic director in 1989.

He quit coaching football after that promotion, but continued to coach track and field and girls' golf for 19 years. In 2008, he was promoted to assistant principal.

State Sen. Bill Montford was the Lincoln principal who hired Everett as the school's offensive coordinator and then promoted him to athletic director. He said Everett made it easy to justify the promotion.

"His integrity was beyond reproach," Montford said. "There was never any question about Jimmy's dedication to young people. He was a wonderful, wonderful mentor for young people. And not just young people, but his colleagues as well.

"I saw him many, many times stand up in faculty meetings and take a position that was somewhat controversial. But because of his personality and his integrity and his relationships with people, what he did always had a tremendous impact on his colleagues."

In 2009, Everett was scheduled to be re-assigned to another school in the district, but Leon County Schools superintendent Jackie Pons allowed him to remain at Lincoln as he began treatment for ALS. Everett remained on the job through the summer, but was unable to start the new school year this fall.

"I think his legacy is going to be not necessarily the countless lives he touched through the years but more in how he carried himself with grace and dignity these last few years," O'Halloran said. "I never heard him complain and somehow he was able to maintain his easygoing personality through all of this."

For the last four years, Everett was a fixture at Dick Howser Stadium where he watched son Tyler pitch for the Florida State baseball team. It was during the 2009 season, when Tyler was leading the Atlantic Coast Conference in ERA, that Everett was diagnosed with ALS.

He waited several months to share the news with Tyler, saying at the time that he did not want to ruin his son's season. He vowed to his friends and family that he would see Tyler complete his college career.

Tyler Everett graduated this summer after pitching for four years for the Seminoles.

"The day Tyler got that scholarship to Florida State was probably one of the proudest moments for Jimmy," Hansen said. "Jimmy was an FSU graduate. His dad taught there for so many years. To have his son go there and play baseball was a dream come true for Jimmy."

As ALS finally began slowing Everett down the last two years, he never lost his passion for the students he interacted with at Lincoln.

He attended as many school events as he could, and shared a smile and a hug with everyone.

"Everybody was Jimmy Everett's friend," Hanna said. "I was there at the house today with Craig Henry, who was a kid he coached a decade and a half after me. It didn't matter if you were black or white or if you lived in Betton Hills or if you were one of his Lake boys who grew up out on Buck Lake Road. He loved them all.

"He loved coaching. He loved kids. He loved teaching."