Obituary for George Elliott Martin
Published in Daily Freeman on Aug. 13, 2017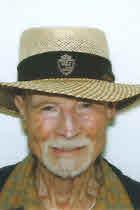 KINGSTON, NY George Elliott Martin, 86, of Kingston, N.Y., passed away Tuesday, Aug. 1, 2017. He was born July 29, 1931 in Allegan, Mich., to the late Pearl and Bonnelyn (Elliott) Martin. George received his Bachelors Degree in Meteorology from Florida State University and studied mathematics at the University of Tübingen in Germany. He served in the Army during the Korean War and joined the Air Force Reserves at Dover AFB in Delaware. He was a meteorologist at the National Weather Bureau and was a programmer for IBM until his retirement in 1987. He was a member of Wiltwyck Golf Club, TrailSweepers Ski Club, and was a past president of the Kingston Area Tennis Association. George enjoyed traveling, writing, and film making. He was a connoisseur of fine wine and food who studied cooking at La Varenne in Paris. George is survived by his loving companion, Willie Haruk of Kingston; his children, Eric Martin and his wife Kathleen of West Kingston, R.I., Christopher Martin and his wife Louisa of Bedford, Mass., his grandchildren, Benjamin, Erika, Elizabeth, and Jack Martin. He is also survived by his former wife, Eve Martin of Harwich, Mass.