Obituary for Laird Benedict Anderson
Published in Tallahassee Democrat on Oct. 26, 2014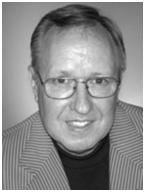 Laird Benedict Anderson, 78, professor emeritus of communication at American University and former director of journalism programs in the School of Communication died October 14, 2014.
Professor Anderson taught at American University for 23 years as a full-time faculty member before his retirement in 1996. He was a former reporter and staff writer with the Wall Street Journal in Chicago and Washington where he was an economics writer and later was Tallahassee bureau chief for the Miami News and Palm Beach Times.
He started his journalism career with The Daily Times of Gainesville, GA. He also served as a staff assistant to the late Georgia congressman Philip Landrum of Georgia and was director of public affairs for the Investment Bankers Association of America, now the Securities Industry Association.
Professor Anderson retired in 1989 as a colonel in the U.S. Army Reserve. An infantry and Special Forces officer, he spent 31 years on active and reserve service in various command and staff positions. He was awarded the parachute badge, Special Forces Tab, the Meritorious Service Medal and the Army Commendation Medal.
He frequently conducted workshops for international journalists as a member of the faculty of the International Center for Journalists.
He traveled under the auspices of the United States Information Agency, the State Department and private foundations to work with journalists, students, academics and government officials in Albania, Romania, Guatemala, Greece, Sri Lanka, Egypt, Ethiopia and Nepal. In 1997 he was awarded a Knight International Press Fellowship to return to Nepal for an extended period.
He was the author of many journal and newspaper articles concerning media issues, military affairs and the economics of the press and was frequently called on for interviews concerning media and military matters.
He was a frequent contributor to the Sunday commentary section of The Baltimore Sun. He was co-author of a prize-winning12-part series of articles on the newspaper business for The Washington Post in 1977, co-editor of two books, Pulitzer Prize Editorials: America's Best Editorial Writing, 1917-2003 and Reporting on Business and the Economy.
He was contributing author to The Economics of the American Newspaper and Beyond Argument: An Handbook for Editorial Writers.
He was a member of the National Conference of Editorial Writers, the Cosmos Club, the National Press Club and Sigma Chi Fraternity.
He received his BS degree in political science and international relations from Florida State University and an MA degree in communication from American University. He is a graduate of the United States Army's Command and General Staff College.
He was a former resident of Atlanta and grew up there, graduating from Druid Hills high school. He lived for many years in the Washington, D.C area, where he was a founding member of the FSU Alumni Club, he received the Outstanding Alumni Award from the DC Noles.