Obituary for Charles William Hackney
Published in FLORIDA TODAY on Sept. 25, 2016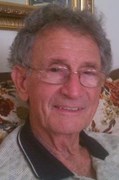 Charles William Hackney, 86, of Cape Canaveral, passed peacefully on September 13, 2016, in Miami after a 2 year battle with Alzheimers. Born in Hampton, Virginia, the youngest of three brothers, he attended Hampton High (Class of '47) and served in the Korean War before graduating from Florida State University in 1959.
He continued his education at the Florida Institute of Technology, Melbourne, graduating in 1971 with a Masters of Science degree in Systems Management. A 50+ year resident of the Space Coast, he worked as a Realtor and for various aviation and aeronautics companies and well as the Space program during its peak. He enjoyed Seminoles football, the beach, travelling, square dancing and singing with the Martin Anderson Senior Chorus at various nursing homes and assisted living facilities.
He is survived by nieces, nephews, a sister-in-law and two step sisters. A good hearted, friendly, humorous man, 'Chuck' would often greet those he would meet with an exuberant, 'Howdy Doo Dee!'. A unique individual, he will be greatly missed.