From the FSU Website, seminoles.com.

Obituary for Marc Anthony Anderson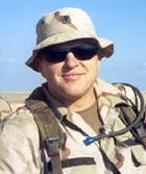 Marc Anderson

Army Ranger Spc. Marc Anderson, a former FSU track and field standout, was the first U.S. soldier killed in combat during Operation Enduring Freedom, which took place in Afghanistan.

Army Spc Anderson was assigned to the 1st Battalion, 75th Ranger Regiment, Fort Stewart, Georgia; stationed at Hunter Army Air Field in Savannah, Georgia. When Marc was born, the doctor told his parents the baby was so strong, they should give him a strong name. So they borrowed from Roman times and named him Marc Anthony. When Marc was killed, he left a legacy as daunting as his name. He was an All American in football and track (NCAA) and was the 1995 Florida State student athlete of the year. He graduated from Florida State University with a teaching degree and taught math in Fort Myers before joining the Army. He tutored his students for free and volunteered with Boys/Girls clubs in the summer. Marc joined the Army in 1998 because he needed help paying off his student loan. He entered the Army at about 265 lbs. and was a Ranger at 6'3", 230 pounds with a 34-inch neck. (No, I don't know how that is possible). Marc was given the opportunity to stay in the U.S. during the Operation to be with his sick brother but he refused to leave many Brothers for his one Brother. He was killed during a vicious firefight with the enemy while attempting to recover the body of a fallen Navy SEAL, Neil Roberts. Marc left $12,000 to a former student to help payfor her college.