Obituary for Taft H. Green
Published by Fred Hunter's Funeral Home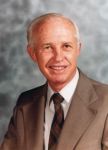 Taft H. Green age 86, a Florida pioneer left us to be with the Lord on May 8, 2014. Mr. Green was born in Hollywood, Florida on November 19, 1927. His parents, Taft Sr. and Kathleen, both born in Jasper Florida, relocated to Hollywood in 1925.
Mr. Green graduated from South Broward High School in 1947 and attended Florida State University graduating with a bachelor's degree in education in 1952. He acquired his Master's degree from Florida Atlantic University in 1969.
Mr. Green began is teaching career in Madison County Florida in 1952. He returned to Hollywood in 1958 to teach and coach football at McNicol Junior High School. His professional career as a teacher, coach, assistant principal and principal in Broward County spanned a total of twenty-five years. Mr. Green retired from the Broward County School system in 1983. Taft also worked for the Hollywood Recreation Department in charge of the entire sports program in Hollywood for eleven years.
Mr. Green received many plaques and awards throughout his career from his students, staff and civic organizations. The Hollywood Civitan Club named Taft Top Citizen of the Year in 1970 for his many years of work with the Hollywood Recreation Department.
Taft was an active member of Faith and St. Andrews Presbyterian churches in Hollywood for forty-seven years. When he moved to Lake Placid, Florida in 2005 he became a member of First Presbyterian Church of Lake Placid serving as an elder for many years.
Taft is survived by his loving and devoted wife of sixty-five years Margaret, son and daughter-in-law Daniel and Ellie, son David, daughters Diane Hill and Deena Brito, ten grandchildren and fourteen great grandchildren.