Obituary for David M. King
Published in the Tampa Tribune on March 22, 2012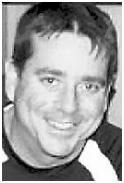 KING, David M., CPA, P.A., 50, of Lutz, died Sunday, March 18, 2012, of natural causes. A dedicated husband to wife Sharon, whom he affectionately called Doll, an adoring father to sons David and Taylor, and a successful Lutz businessman, his loss comes tragically and unexpectedly, leaving his family and a vast network of devoted friends with profound sadness and heavy hearts. Born in Tampa to David and Ginger King, David attended Jesuit, where he was a State finalist on the swim relay team. From there he went to FSU, where he lettered in swimming, was in the Kappa Alpha fraternity, earned an accounting degree, and belonged to FSU's Varsity Club. In 1986, he married Sharon and moved to Lutz, where they raised two athletically gifted sons, David, who attends FSU, and Taylor, a starting quarterback and pitcher at Freedom High. In business as in life, David's formula for success was a hilarious, friendly personality, with which he built a fiercely loyal clientele that considered Dave more than a skillful advisor, but a best friend. In addition to Sharon, David, and Taylor, he is survived by his parents, his siblings and their spouses Dan (Deenna), Carol Lynn Marino (Mark), Christopher (Silvia), and numerous aunts, uncles, cousins, nieces and nephews.