From the FSU Website, seminoles.com.

Obituary for Vernon G. Edgar Jr.
From the Carey Hand Cox-Parker Funeral Home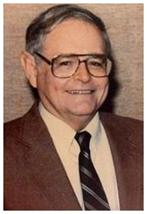 Vernon G. Edgar Jr., 79, of Winter Park, FL passed away on August 17, 2013. Vernon was born on May 14, 1934 to the late Vernon G. and Pauline Edgar in Meridian, Mississippi. He graduated from Florida State University with his Bachelor's Degree in 1956 and then his Masters of Science in 1958. He served as the President of Alpha Tau Omega Fraternity at FSU during his time there, and was a member of the Alpha Tau Omega Housing Board at UCF later in life. He lived and practiced as a Certified Public Accountant in Winter Park for 35 years. Vernon was a sports enthusiast, loved to read, and was well-versed in and enjoyed learning history. He was known as a dedicated and loyal friend and was very well-known and involved with his Winter Park and Lakeland communities. Vernon was an avid golfer, and one of his many successes on the course was scoring two hole-in-ones at Cleveland Heights Golf and Country Club on the same #9 hole ... 27 years apart from one another. He will truly be missed by all those who knew and loved spending time with him. Vernon is survived by his Daughter, Terri Edgar Dion (Michael); Sons Vernon G. Edgar III and Sidney Patrick Edgar (Carolyn); Sister Paula Edgar Craig (John); Niece Catherine Marie Caplan; Nephew John W. Craig, Jr.; Granddaughters Sydney Lee Fagan, Kayla Rheagan Edgar, and Morgan Emma McLeod; Grandsons Brandon Edward Fagan, Cameron Michael Fagan, Patrick Dustin Edgar, Harrison Michael Edgar, and Thomas Connor McLeod; Great-Grandchildren Benjamin Maxwell Fagan and Dexter Matthew Fagan; and his dedicated assistant of 25 years, Wanda Gray.