The Fourth Fire - The Coming of Jimbo
By Charlie Barnes, Executive Director - Seminole Boosters

Spring 2010
The moon shines with a light not its own. Its beaming is merely the sun, reflecting from off-stage behind us. In the mid-19th Century our University, known then as the Seminary West of the Suwannee, was properly humble, but even then our little school harbored ambitious dreams. The symbol of the Seminary was a wise owl silhouetted against a full North Florida moon.
By 1901 Florida State College envisioned a bright future for itself and its graduates. The young institution boasted all the trappings of traditional student life,, including an intercollegiate football team (State of Florida Champions in 1904) and Greek-letter societies. The college administration crafted a new symbol: two burning flambeau within a garland wreath. The owl got to keep his perch atop the crossed torches.
It's been 100 years now, a full century since the institution recognized its own maturity by establishing an Alumni Association. It was a century ago that the third fiery flambeau was added to the University's garnet and gold seal and the little owl took his leave. Within that long span we have seen the re-establishment of football (1947), its passage onto the national stage and into Bobby Bowden's long Dynasty. We were naive to think it might last forever.

Bobby Bowden
FSU Football Coach
1976-2009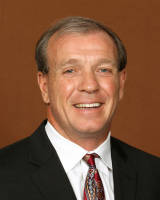 Jimbo Fisher
FSU Football Coach
2010-
It's trendy today to describe catalytic events as being "transformative." But transformative is the right word this time at the crossroads in Seminole football history. For the first time in almost two generations, we have a new Head Coach, Jimbo's wait is over.
It's time for the Fourth Fire to make it's appearance.
For nearly 160 years our University has continued advancing toward ever brighter lights. Long ago we nurtured ambitious dreams beneath the reflected glow of the sun. Then, two torches and soon afterward a third torch lighted the way for generation after generation of our students and alumni.
Our University is paused at the next threshold. Seminole football has known ambition ever since the first pass spiraled beneath an October moon in 1947. It grew to maturity, and later to true greatness.
Now, suddenly, the fires of Florida State have a new leader. We have fresh fuel. Fans can feel the growing, glowing heat. This upcoming Garnet & Gold Game on April 10 will likely see the biggest crowd of any spring game in Seminole football history. There is fire.
It's been proposed that Jimbo Fisher light the ceremonial Unconquered flame the night before the game.
This spring, under an April moon, join your fellow Seminoles at Doak Campbell Stadium. The time of the Fourth Fire is at hand.
This was originally printed in the Spring 2010 Unconquered magazine. The author has given his permission to reprint this article.