The finest offensive player in Florida State's first football years was Buddy Strauss. A Tallahassee native, Strauss played for FSU in 1948 and 1949, becoming the first Seminole to gain 1,000 yards rushing over his career. His 1,170 career yards remained the record for seven years until Lee Corso, over a four-year career, surpasses his remarkable achievement. Strauss' 747 rushing yards in 1949 was a single-season mark that stood until 1972. His 161 yards in a single game in 1949 topped the record chart for 28 years until shattered by Larry Key. he gained 132 yards in an upset of Wofford in his final game at the Cigar Bowl, the Seminoles' first post-season appearance. Strauss has remained a devoted supporter of Florida State University. He was instrumental in founding the Seminole Boosters in 1981 and has remained active ever since.

---
From the Tallahassee Democrat
Early FSU football hero Buddy Strauss has died
Strauss was record-setting fullback on 1948-49 teams
By Gerald Ensley
DEMOCRAT SENIOR WRITER
August 24, 2009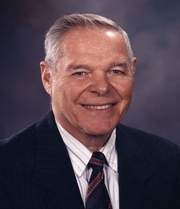 Buddy Strauss

Florida State's "first football hero," Buddy Strauss, died Sunday.
Strauss, 84, died following a heart attack.

Theodore "Buddy" Strauss, a Tallahassee native, was a record-setting fullback on FSU teams in 1948 and 1949 and led FSU to victory in its first-ever bowl game.

In 1949, Strauss piled up 747 rushing yards, including a single-game high of 161 yards against Mississippi College. Strauss capped the season by rushing for 132 yards and leading FSU in tackles while playing defensive end in FSU's 19-6 victory over Wofford in the Cigar Bowl.

Strauss' single-season rushing mark stood until 1972, when Hodges Mitchell ran for 944 yards. His single-game record lasted until 1977, when Larry Key ran for 170 yards against Auburn.

Elected to the FSU Sports Hall of Fame in 1980, Strauss was dubbed FSU's "first football hero" by current head coach Bobby Bowden.

"Buddy was one of our dominant players, no question," said Hugh Adams, a lineman who was FSU's first All-American in 1948-49. "He was dependable, he was tough, he'd crack 'em a good one; he was one of the guys I think about and smile."

FSU was the third stop of Strauss' college career. A member of one of Tallahassee's oldest Greek families, Strauss was a three-sport letterman at Leon High, who enlisted in the Navy during World War II. During pre-flight training at the University of North Carolina, he earned a letter with the wrestling team. After the war ended, he was recruited to then-powerhouse Duke, where he lettered on the football team.

Following a car accident, he decided to remain in Tallahassee and attend FSU, which began admitting men students and started a football team in 1947. Winless in its inaugural season, FSU went 7-1 and 9-1 in Strauss' two seasons.

"Buddy was a hometown hero," said retired judge and Tallahassee native James Joanos. "It was definitely important to the community to have a hometown hero on those early FSU teams."

Strauss gave up his final season of eligibility to concentrate on classes and earn his degree. He sold cars and farm equipment before co-founding Southern Electric appliance store. He sold his interest in that business, started one of Tallahassee's first liquor stores and became a real estate broker.

"He was one of the nicest guys I ever knew, besides being the backbone of those (1948-49 teams)," said former FSU quarterback Ted Rodrigue, a longtime friend. "He had a wonderful personality. He was soft-spoken, with a good sense of humor and was a good family man. Just a clean-cut, All American man."

In the mid-1960s, he was hired by developers J.T. Williams and Bill Cartee as the first real estate broker for then-new Killearn Estates. Strauss' wife of 59 years, June, a former national chairwoman of the FSU Alumni Association, coined many of the development's Irish street names. Strauss later branched into developing office buildings and storage facilities.

But he never lost his passion for FSU football. One of the founders of Seminole Boosters, Strauss rarely missed an FSU game and watched so intensely that he "seemed to feel every block and tackle," said Tallahassee writer Julie Bettinger, one of his six children. "He lived for FSU football."