Garnet & Old
A Big Play Man...T.K. Wetherell
By Jim Joanos

1/2003
Football memories are funny. There are games, almost entire seasons that are soon forgotten. On the other hand, there are single plays that have staying power and can be remembered vividly for years thereafter. Recently as I sat in the back of a room and listened as Florida State University's Board of Trustees selected the institution's new president, I thought about one of those unforgettable plays. FSU was playing at Miami at the time in memory. It was on the night of September 24, 1966.
It had been a full day. Before daybreak, a couple hundred or so of us fans had boarded a train at Campbell Stadium. At the time railroad tracks ran adjacent to the stadium. The train pulled out promptly at 5 a.m. and we partied our way all day down to Miami. A bar had been set up in one of the freight cars and got lots of business. The fan train dubbed the "Seminole Engine" had been arranged by Tommy Waits, who served FSU then as director of both the Alumni Association and the Boosters. Upon arrival in Miami, we had been bussed to the DiLido Hotel on Miami Beach in order to check in and pause briefly to freshen up. And then we were off to the Orange Bowl Stadium for the game.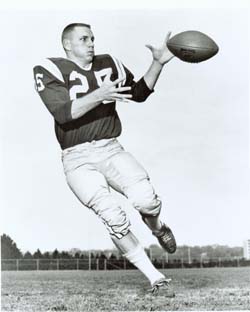 Late in the second quarter, Miami scored a touchdown to lead 13-7. The play that I remember so well then followed. On the kickoff that followed Miami's touchdown, FSU's Bill Moremen took the ball on the Seminole six yard line, ran forward to the seventeen where he turned abruptly and threw an overhand lateral back across the field to T.K. Wetherell who caught it and ran down an alley along the sideline that had been created by the other FSU players peeling over and forming a wall for him to run behind. The result was a ninety-four yard touchdown play. It was a beautiful play and executed to perfection. While the rest of the game continued to be hard fought throughout, FSU went on to win 23 to 20.
It was not the only big play that new FSU President, T. K. Wetherell, participated in when he played for the Seminoles. The year before his Miami heroics, at Kentucky in 1965, Moremen and Wetherell had collaborated on a similar kickoff return with Moremen lateralling to Wetherell for a touchdown play that had started on FSU's goal line. That play had been the first 100 yard play in FSU's football history. Phil Spooner, a member of the team, at the time, remembers seeing Wetherell virtually "walking down the alley" untouched to the end zone.
In high school, Wetherell was a three sport letterman (football, baseball, and track.) He was selected and played as a member of the North team in the 1963 Florida High School All-Star Football Game. Incidentally the coach of that team was Gene Cox, the former FSU running back who later became the State of Florida's high school coach with the most wins in history. However, it was not as an athlete but as a student leader that Wetherell first came to the FSU campus. In the summer of 1962, Wetherell, recently elected Student Body President of Mainland High School in Daytona Beach, attended the American Legion Boys' State program at Florida State. In one of his interviews regarding the FSU presidency, he credited his prior positive experience at Boys' State on the FSU campus as having a great deal to do with his choice of a college.
FRESHMAN BALL 1963.
Wetherell arrived on the FSU football scene the same year as did a new assistant coach named Bobby Bowden who had previously been the head coach at South Georgia Junior College and Samford University. As a freshman in 1963, Wetherell along with the other Freshmen, as the rules required then, were not allowed to play on the varsity. The Freshmen had their own separate team and their main job was to scrimmage the varsity and perform the function of a modern day "scout team". The freshmen did have an abbreviated schedule of their own of four games in which they played freshman teams from Florida, Miami, Southern Mississippi, and North Carolina State. Among the members of the Florida team that Wetherell's team played that year was quarterback Steve Spurrier.
The FSU Freshman Team in 1963 was coached by Ken MacLean. Yes, that is the same Ken MacLean who had played on FSU' s first football team when football was reinstated in 1947. Incidentally, MacLean, a few years prior to coaching at FSU, had coached at Chattahoochee High. Among the players he coached at Chattahoochee was one, Talbot "Sandy" D' Alemberte, who was the FSU president succeeded by Wetherell. Freshman teammates of Wetherell that went on to become valuable members of the FSU varsity in later years included Wayne Giordino, Larry Green, Kim Hammond, Wayne McDuffie, Charles Pennie, Johnnie Stephens, and Del Williams. Wetherell as did the other football players then, played both ways, offense and defense. Wetherell lined up as a halfback on offense and was a defensive back when the other team had the ball. This particular freshman team was pretty good and there was at least one newspaper report as to how they had unexpectedly given the varsity a challenge. In the report of one scrimmage, freshman Wetherell had stopped a varsity drive with an interception.
A RED SHIRT IN 1964
Wetherell red shirted his second year, 1964, at FSU. It had to have been an especially tough year to have red shirted as the varsity that year enjoyed the school's best season up to that point in history. That was the year that FSU's coach Bill Peterson pioneered the advent of the pro style passing attack into the college ranks. Behind the offensive passing tandem of quarterback Steve Tensi to wide receiver Fred Biletnikoff and the defensive play led by the "Magnificent Seven" and the "Forgotten Four", the varsity went 9-1-1, including the first ever victory over the University of Florida and a Gator Bowl win over Oklahoma.
FSU' s ability to pass had been aided by a change in the college football rules which allowed more liberal substitution which permitted separate offensive and defensive specialists. Observing FSU's success with passing, many college teams thereafter would install offenses featuring the pass. Up until then, pass plays were almost novelties in college and rarely used as a major staple of the offense. Incidentally, assistant coach Bobby Bowden coached the wide receivers at the time and as such was Wetherell's position coach.
A STARTING FLANKER IN 1965.
For the 1965 season, FSU under the leadership of Coach Bill Peterson sought to continue the use of the pro style passing attack that had been installed the year before. Tensi and Biletnikoff were gone. Consequently, FSU looked to other quarterbacks and receivers. Ed Pritchett became the main quarterback that year. As for receivers, the wideouts included sophomores, T.K. Wetherell, Jerry Jones, and Billy Cox. Serving as receivers coach that year was Bobby Bowden. Wetherell, at 5-10 and 171 pounds, started most of the games. Pritchett threw more passes than Tensi did the year before but the total was for less yards and less touchdown completions. It was actually the tight end, Max Wettstein, who led the team in receiving rather than the wide receivers. In the Baylor game, Wetherell caught a touchdown pass late in the game from quarterback Ed Pritchett that went for 59 yards and put FSU ahead for good with a 9-7 victory over the Bears. A highlight of the 1965 season was a victory over the Georgia Bulldogs, 10-3, in Campbell Stadium before 40,112 fans. At the time, Georgia was ranked number 5 in the country. However, the team record for the year was a disappointing 4-5-1.
THE 1966 SEASON.
In 1966, FSU's passing game got much better despite the loss of receivers coach Bowden who, after three years at FSU, had gone on to another school. Much of the success was due to some special sophomores who had come up from the 1965 Freshman team. They included quarterback Gary Pajcic and wide receiver Ron Sellers. Sellers gained the spotlight as a receiver and would dominate the position at FSU for three years. When he was finished he would hold virtually all of FSU' s pass receiving records and many of the nation's.
Few remember who the other receivers were in 1966. Wetherell, who caught 16 passes for 215 yards, was one. They do remember one other receiver, Lane Fenner, for it was he who caught that pass that would have beaten Florida but was ruled out of bounds. The team did a lot better than the year before, and after a 6-4 regular season were invited to play Wyoming in the Sun Bowl. Despite a valiant effort, FSU lost to the Cowboys 28-20. While Sellers was FSU's dominant receiver in the game, Wetherell did catch a pass from quarterback Kim Hammond that was good for 54 yards and an FSU touchdown. Meanwhile, while Wetherell's football accomplishments were beginning to mount, so were his honors in the classroom. In the first trimester of 1967, he racked up a perfect 4.0 as a scholar.
1967---A YEAR OF GLORY!
Going into the 1967 season, the Seminoles were loaded with wide receivers. They were short on defensive backs. Consequently, Wetherell, always a team player, moved over to the other side of the ball. It turned out to be a great move for the team and for Wetherell as the secondary became a solid unit. Wetherell started at one corner, while Walt Sumner played the other. Safeties were John Crowe and Chuck Eason. That secondary which was coached by Gary Wyant is regarded as one of the best that has been put together at FSU. Walt Sumner would go on to play six years for the Cleveland Browns in the NFL. The others were also quite good.
The 1967 season was a great one for FSU. The season began with a bad loss at Houston 13-33. In the second game, FSU shocked the college world by tying Alabama 37-37 on Legion Field in Birmingham. Alabama, at the time enjoying a 21-game winning streak, was coached by the famous Paul "Bear" Bryant and led by quarterback Kenny "Snake" Stabler. It was one of the most exciting games that I have ever seen.
FSU lost the following week to North Carolina State, 10-20, and after three games stood 0-2-1. They would not lose again.
They won the remaining seven games of the regular season including the first ever victory at Florida Field in Gainesville, 21-16. The team, with a 7-2-1 regular season record, finished the year in a 17-17 tie with Penn State in the Gator Bowl, to make the final record 7-2-2.
Wetherell had a heartbreaking experience at the end. Because he had obtained his FSU's Batchelor's degree earlier and was a graduate student, under the NCAA rules existing at the time, he was ineligible to play in post season games and had to witness the Gator Bowl game as a spectator rather than as a player. Thus, ended Wetherell's playing days at FSU. Although he had been an exemplary student and put studies first, he was punished by being kept out of the big game. Others who had been there just as long but who had not yet obtained their degrees were allowed to play in the game. Fortunately, the NCAA has since changed that silly rule.
MUCH MORE THAN A FOOTBALL PLAYER!
The guys who played with him describe Wetherell, similarly. Larry Pendelton, an offensive lineman in those days, describes him as having "great speed" and as a "really good defensive back" and that "you could always count on him on the field". Pendelton also says he was a "tough guy mentally and physically".
Pendelton tells a story about how Wetherell suffered an extremely painful dislocation of a hip during Spring practice. Pendelton can still vividly remember Wetherell writhing with pain on the ground. They were convinced that Wetherell was through with football at the time because of the severity of the injury. But in short order, Wetherell was rehabilitating and by the next fall was ready to play.
Walt Sumner is very complimentary of Wetherell and says he was a very versatile, fast athlete who could play anywhere on the field. He also says that Wetherell was always "serious and conscientious and wanted to do a good job".
He says Wetherell has many outstanding characteristics that should carry over to his presidency. Phil Spooner who was Wetherell's big brother in the Phi Delta Theta fraternity, as well as a teammate on the football team, says that Wetherell was tough and quick, "a really good defensive back and a very conscientious student who put in his time studying". He says that Wetherell loved to hunt and fish even back then.
Following graduation, Wetherell stayed on awhile at FSU working on a master's degree and serving as an Academic Counselor for scholarship athletes. He got his master's in 1966 in Social Studies education. He later came back to FSU and received his Ph.D in 1974 in Education Administration. Consequently, our new president has three degrees from Florida State
Wetherell's career in Education has been full. He has held a number of positions at virtually every level that have included being an administrative assistant at Florida Technological University in Orlando, an Associate Professor of Education at Bethune-Cookman College in Daytona Beach, Provost and Vice President of Daytona Beach Community College, President of the Independent Colleges and Universities of Florida, and President at Tallahassee Community College.
He has been credited with making major advancements at TCC including the doubling of the enrollment and of facilities, as well as advancing the institution into the top 25 community colleges nationally awarding AA degrees.
In one interview before the FSU presidential screening committee, he credited three former FSU deans as having provided major inspiration to his life work. They were former dean of social work, Coyle Moore, former dean of education, Mode Stone, and former dean of education and former president of FSU, Stanley Marshall. In a more recent speech, he also credited former FSU geography professor, Harrison Chase, as having had a major positive influence upon him.
Dr. Wetherell is one of those people who have had two career fields. The other in his case has been in elected public service. He was first elected in 1980 to the Florida House of Representatives and was reelected several times thereafter. In 1990, he became the first professional educator in the modern history of Florida to be elected Speaker of the House of Representatives. He has blended his two career fields well as a Florida leader in that much of his time and energy in the legislature was devoted to improving the state of Florida's education at all levels. As an example, as Chairman of the House's Higher Education Committee as well as his Chairmanship of the all important Appropriations Committee, he devoted himself to the task of insuring that Florida's higher education would be well funded. Consequently, Wetherell comes to the FSU Presidency, having been well schooled in education as well as politics. I suspect his expertise in both areas will be called upon in the years to come.
Pendleton, who has remained a close friend through the years, says that it was obvious from the beginning that Wetherell would be successful in life. He also points out how much FSU means to Wetherell an expresses confidence in his ability to lead it to greater heights. "I don't think that he has ever gotten up in the morning and not thought about how to make the university better--- he really loves FSU," Pendelton said. "He will rally everyone who loves our university toward working for a better university."
Good luck, Mr. President, we look forward to seeing you make some more "big plays" for Florida State University!
This was originally printed in the January, 2003 Seminole Boosters Report To Boosters newspaper. The author and the Seminole Boosters have given their permission to reprint this article.