Garnet & Old
24 Strikeouts...Tony Avitable
By Jim Joanos

3/2003
Baseball fanatics love their records. The FSU Baseball Media Guide for 2003 is full of wonderful statistics. One of the most amazing is found on page 134 where it is stated that the FSU record for strikeouts in a game was set against Furman in 1956 by Seminole pitcher Tony Avitable when he struck out twenty-four batters. Yes, you read that correctly, twenty-four. That hardly seems possible as there are only twenty-seven outs available for one team in a nine inning game. The entry only takes up a couple of lines. However, behind that record is an interesting story.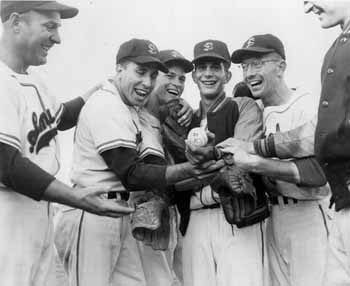 Coach Danny Litwhiler, Lee Corso, Bob Vaughn, Tony Avitable and Riley Seevers with the 24 strikeout ball.

It was a morning in the fall of 1952. A number of us FSU students were on the steps of the History (now named, Williams) Building waiting for class to begin. I was running for president of the freshman class, so took the opportunity to introduce myself to the others waiting. One of the fellow freshmen that I met that morning was a guy that talked fast and sort of funny. Turned out that he was a Yankee from somewhere in New York. At that point in life I had not met many New Yorkers. He said that his name was Tony Avitable. I misunderstood and thought he said Tony Inevitable. I have called him Inevitable ever since.

The main thing that I remember about that first conversation with Tony was that he came to FSU for one primary purpose and that was to play baseball. He said that he played first base.

Tony Avitable came to FSU from Lindenhurst, NY. In high school he was a pretty good baseball player. He was always a first baseman. He reported that one of his goals was to see if I had the talent to pursue a college and possibly a pro baseball career was a dream I always had.

The head coach at the time was Ralph Matherly. Avitable quickly learned that FSU had several pretty good first basemen. While he spent some time with the varsity during the Spring of 1953, the only game experience he got was in several freshman games that were arranged to give the young guys some experience. He recalls being about third or fourth string on FSU's depth chart of first basemen. Things did not go much better in the Spring of 1954. While he spent some time with the varsity, again, the major playing that he did was in some B team games and in scrimmages against the varsity. He was having a problem hitting college quality pitching. He did not letter in either of his first two years at FSU.

In the Fall of 1954, Avitable's mother died and he had to drop out of FSU and go home to be with his family. In the Spring of 1955, he came back and returned to the baseball team. He found that a big change had taken place. There was a new head coach, Danny Litwhiler, a well known outfielder who had played in the major leagues for eleven years. Litwhiler is the only outfielder to have ever played a full major league schedule of 154 games without making a single error. Litwhiler had also played in two world series. Avitable was surprised and excited and states that he had seen Danny play in the big leagues and really couldn't believe it. While the coach was new, in the beginning things were not much different for Avitable. He was still third string as a first baseman. His hitting had not gotten much better.

An important practice.

Then there was a practice that would change Tony's life. FSU was preparing to play a team that had an excellent left handed pitcher. Since Avitable threw left handed, Coach Litwhiler asked him to pitch batting practice. Avitable did as he was directed although he felt funny pitching with a first baseman's glove. That did not stop him. He started throwing as hard as he could. At first he had trouble almost hitting a few guys and not even getting close to the plate but then he settled down and threw ok for awhile. After a few batters, he noticed Litwhiler and the trainer, Doc Fauls, who had professional baseball experience as a player and a trainer, looking at him and talking to each other. He kept pitching and when he finished, Litwhiler came over to him and told him to turn in his first baseman's mitt and check out a glove suited for a pitcher. Avitable would spend the rest of his time at FSU as a pitcher.

Avitable could throw very hard. His fast ball was sometimes in the 90's. However, he had major problems with his control. Harvey Sweeney, who was one of the first basemen that year describes it as an experience when Avitable was pitching.

In those days, they did not use signals when a pitcher would make a pick off throw to first base. He said that Avitable had a great pickoff move to first that fooled him as well as the base runner. He was also a little wild, Sweeney said. There I was, all of a sudden Tony was throwing a ninety plus mile an hour throw to me and I had no idea where it was going to come in.

Because of the control problems, Litwhiler was hampered in his ability to use Avitable. He has been reported as saying that Tony was so wild that when he warmed up the umpires made him turn around, in the bullpen, and throw toward right field. However, in one of the games against Georgia, Litwhiler became angered. It seems that despite a big lead late in the game, Georgia was continuing to bunt and steal bases and riding us bad. Litwhiler says that the Georgia third baseman was being especially nasty. He made comments about FSU being a girl's school and the like. In the major leagues, this kind of behavior would have called for some retaliation. Litwhiler said he wished that he was a player so that he could slide into third base. But then he decided that he could get some revenge by putting the wild, hard-throwing Avitable into the game. Litwhiler chuckled to himself and instructed Avitable to throw strikes but if he happened to stick one in the ribs of the third baseman, it would be fine. Avitable's response was which third baseman? Litwhiler answered their third baseman, Tony, not ours.

Tony's first pitch missed the catcher and went all the way to the backstop, Litwhiler said, but he managed to strike out the first two batters and then the third baseman came to bat. Litwhiler says that Avitable then hollered out, Now Coach, this one? Litwhiler was embarrassed and could only yell back, No, Tony, not this one.

Litwhiler says that Tony then struck out the third baseman. Despite his strikeouts in the Georgia game, Avitable was used sparingly in varsity games, pitching in only three as a relief pitcher. He did get one win in against Stetson. In some B Team games Avitable did quite well and on one occasion struck out 11 of the 14 batters he faced against a military team.

Control problems continue

Avitable continued to have control problems. Litwhiler, however, was one of the great innovators in baseball. Sometime between the 1955 and 56 seasons, Litwhiler learned from a psychology book that a person's dominant eye affected the brain in everything that the person did. So when the practices began for the 1956 season, Litwhiler thought it would be a good idea to put a patch over Avitable's non-dominant eye and have him practice pitching with the patch. They did this for awhile. Whether it was the patch or Tony's hard work and stringent conditioning program, his control did get somewhat better. Whatever the reason, Litwhiler gained confidence in Avitable and decided to use him as the starter in the first game of the 1956 season against Furman. It came as a big surprise to Avitable, as there were some very good pitchers on that team including the team's ace and captain, Max Long, and Jim Atwood, who had done quite well the year before. The rest is, as they say, history.

The game

It was a cold day in Tallahassee on March 16, 1956. There were about 600 fans in the bleachers. Avitable started the game by walking the first batter. Then he got his first strikeout but walked the next two. With the bases full, Litwhiler's confidence in Avitable began to waiver, so he sent a relief pitcher to the bullpen to warm up. Because the reliever had not had time to warm up, he was forced to leave Avitable on the mound for another batter. Avitable came through and struck out the next two hitters to retire the side.

In the second inning, Avitable again walked the first hitter. But this time he struck out the next two before walking another. Litwhiler came to the mound and told Avitable that if he walked the next batter he would be taken out. Avitable then struck out the next hitter to retire the side. He struck out the side in the third inning. In the fourth, the lead off hitter flied out, and then Avitable struck out six in a row before walking the second hitter in the sixth. He then struck out a hitter before the next batter doubled for Furman's only hit of the day and the only run. The last hitter of the sixth grounded out.

In the seventh inning, Avitable struck out the first two. The third batter swung and missed a two-strike pitch for a strike out but because the pitch was wild, made it to first base. Avitable then struck out the next batter which gave him an unusual four-strikeout inning. Avitable hit the leadoff batter in the eighth inning, got a fly out, and then struck out the last five batters he faced.

Another interesting feature of that game occurred in the seventh inning. With men on first and second base with no outs, FSU put on a hit-and-run play. However, the batter's line drive was caught by the Furman third baseman who threw to second to catch the runner headed for third, after which the second baseman threw to first to catch that runner off for a very rare triple play.

The FSU batter who hit into that play was none other than Lee Corso, the FSU football star, who has gone on to great fame with ESPN. He played right field that day for the Seminoles. FSU had scored four runs in the third and got two more in the eighth. When it was over, Avitable had a complete, one-hit, 6-1 victory while striking out 24 Furman batters. On the back of his information sheet for the game, Coach Litwhiler tallied the total number of pitches thrown by Avitable at 162. However, a study of his tabulation reveals that he left out one batter in that unusual seventh inning and, consequently, it appears that Avitable must have thrown a few more than that astounding number.

Interesting people

There were some other interesting players on the FSU team that day. In addition to Corso, there were two other members of the FSU football team: Ham Bisbee was the first baseman, and Fred Twomey was in left field. Bob Vaughn was the catcher and Owen McCarron was at second base. Carlee Hendrix was the third baseman and Pfil Hunt was the shortstop. Hunt would go on and play professional baseball when he finished at FSU. After a minor league stint, Hendrix has continued to be a major supportrer of the FSU baseball program through the years. In center field that day, playing his first game ever for FSU, was a 140-pound, walk-on from West Palm Beach, named, Dick Howser.

Avitable remembers that the first day that Howser came out for the team he showed up in a pair of jeans and an old sweatshirt but immediately made an impression with his bat, his glove and his baseball. Avitable remembers overhearing Litwhiler telling Fauls that we gotta give the Howser kid a uniform no one can get him out. In that first game, Howser went two for four including a double. He would later be moved to shortstop and go on to become Florida State's first All-American baseball player. Few would have suspected that day in 1956, that the ball field that the game was played on would years later be named for that little freshman in center field. But that is another story.

The rest of the season

Florida State beat Furman again the next day and went on to a very successful regular season record of 24 wins and 5 losses. For the year, Howser led the team in hitting with a .422 batting average after knocking out 38 hits in the 29 games. At the time, both figures were school records. Max Long had a perfect pitching record of 7 wins, 0 losses. Avitable won 6 and lost 1. He set the school record at the time in both strikeouts during a season, 112, and walks, 58. Corso led the team in stolen bases with 12. Avitable had developed two very good pitches, his fastball, of course, and an overhand curve. He sometimes, also threw a change-up and a let-up curve to keep batters off balance. He had become much more consistent in controlling his pitches and began to be looked at by professional baseball scouts.

FSU's First NCAA Regional

As a reward for the outstanding season, FSU received its first ever invitation to play in the NCAA championship tournament in the District 3 regional to take place in Gastonia, North Carolina. FSU, as an at-large invitee, would be matched up in a best of three series against Duke, the Atlantic Coast Conference Champs. The winner would play the winner of a similar series between the University of Mississippi and Tennessee Tech, for the right to go to the College World Series.

Along with the good news that FSU would be playing in the NCAA Regional, there was bad news. FSU would have to play without five of its seniors. At the time, the NCAA had a rule that players who had played more than three years on the varsity could not compete in post season play. Unfortunately, ace Max Long, who had gone 7-0 in the season, and fellow pitchers, Jim Atwood, with a 2-0 record, and George Hehemann, 2-0, as well as catchers Gary Ashley and Bob Vaughn, would be ineligible to play as they had all played on the varsity since their freshman year.

Consequently, it became Avitable's fate to make history again, by being the starting pitcher in the first FSU NCAA Regional game. Despite walking ten batters and hitting one in a game played in continuous rain, Avitable got the win. He struck out ten and had a no-hitter going into the sixth inning when he gave up the first of only two hits by the Blue Devils. Duke scored its only run in the seventh.

In the meantime, FSU got one run in the bottom of the second when Bob Rosell, playing right field, scored on a sacrifice bunt by none other than Avitable. FSU scored again in the sixth when Fred Twomey crossed the plate on a long fly by Rosell. FSU's cause was greatly aided by some superior defensive play. Despite the rain, FSU made but one error and turned four double plays. Second baseman Carlee Hendrix got one unassisted, Howser at shortstop started another, and Hunt at third base did likewise. The last of the four was brought about by Avitable himself when he dove off the mound and caught a pop up and while lying on his back threw to first to double off a runner.

Following the initial win over Duke, FSU lost two in a row to the Blue Devils, 2-4 and 6-7, to be eliminated from the competition. Thus ended FSU's first-ever venture into the NCAA baseball tournament. A year later the team would again make it to the NCAA playoffs, win the Regional and make it to Omaha for the Seminoles' first-ever College World Series appearance.

After the 1956 season ended, Avitable received a bonus and signed with the Kansas City Athletics. He played in the minors for three years. He played for D, C, and A class ball teams and made it up to the AA farm team of the Athletics at Little Rock, Arkansas. Unfortunately, one day while he was pitching batting practice, a line drive shattered the wrist on his pitching arm and ended his career prematurely.

His baseball career behind him, Avitable came back to Tallahassee in 1960 to begin a career in insurance. After a long and successful career, Avitable moved to Naples in 1999 where he currently resides. He continues to be a very avid FSU sports fan and keeps up with the everyday happenings of the baseball Seminoles. In 1991 he was inducted into the Florida State University Sports Hall of Fame. In doing so, he joined three others who were instrumental in that historic 1956 FSU baseball season and had previously received that honor: Dick Howser (inducted in 1977), Lee Corso (1978), and Coach Danny Litwhiler (1981).

Recently Avitable donated to the FSU Varsity Club two of his most treasured possessions, two baseballs, one from the 24 strikeout game and the other from the victory against Duke in FSU's first-ever NCAA post-season game. Tony Avitable gives much of the credit for his success in baseball to Danny Litwhiler, his coach, and the first coach to take the Seminole baseball team into the big time.

Danny had this ability to give his players so much confidence because he knew the game so well, Avitable said. He had discipline but he coached you to be confident and relaxed at the same time. Everyone loved playing for Danny and I think he raised us to a level we didn't believe we could reach.




This was originally printed in the March, 2003 Seminole Boosters Report To Boosters newspaper. The author and the Seminole Boosters have given their permission to reprint this article.