Garnet & Old
Skybox in the Sky
By Jim Joanos

8/2003
The Florida State 2003 football season is here. Soon we will be going out to the gothic castle that we call Campbell Stadium and enjoy the absolute splendor that college football brings. The band will play the fight song and the war chant. Osceola, astride Renegade, will plant the fiery spear into the center of the field. Eighty thousand fans, most of them wearing garnet outfits, will wave their arms in unison in one of the most beautiful venues in the nation. The FSU players, among the most talented in the nation, will line up and play against some of the toughest teams in the country. It is simply college football at its best.
It has not always been like this. Florida State restarted its football program in 1947 when the school returned to coeducational status. The beginnings were modest. Players came to play although there were no athletic scholarships. Fans came although the competition was unexciting. The wooden bleachers of Centennial Field and the aluminum ones of the early erector style Doak Campbell stadium would accommodate very few. But even in the early days of FSU football, the program had what it continues to have and that is some very dedicated supporters. Those supporters should be given credit for much of what FSU has today.
Some of FSU's most ardent supporters have gone on to their reward. Perhaps it is because old age is setting in, but, often when I am at the games I get to thinking about the old times and those people who did so much for FSU football. I think about my own father who took me to my first football games and who paid for season tickets five years ahead to help build the first version of Campbell Stadium. And then I think of the many others who did so much for FSU football who are no longer with us.
But then I ask myself: Who says that they are no longer with us? I have been taught since childhood that there is a hereafter. They say there is something called heaven. I do not know exactly what that means but it is supposed to be a place where people are real happy and are doing things that they enjoy. Now if that is true, there very likely is a big, giant, fancy skybox up there in heaven where FSU supporters who did so much for the program while on earth can go on Saturdays and see the results of their efforts. A place where they can go and continue to cheer on their beloved Seminoles. It would have to be a large skybox as there are a lot of very good fans who have passed on. I mention just a few of those who did so much.
The Hosts

Dr. Doak S. Campbell
President Doak and Mrs. Edna Campbell would probably be the primary hosts of that great skybox. After all, he was president of the university when all of this started. He came to Tallahassee to be the president of the Florida State College for Women and ended up not only leading the institution in its transition into a large coeducational university but into the world of major intercollegiate athletics. Although, he had no real sports background, he immediately became a supporter of athletics. He would go to football practices and give players rides back to the barracks where they lived. Despite many obstacles, he supported, in every way, the rebirth of football at FSU. He was not the least bit hesitant about insisting that FSU have a first class athletics program.It was totally consistent with his dedication that the stadium was named for him when it was opened in 1950. He started nearly every speech he made at FSU reminding us of the institution's greatest asset, "it is a friendly campus". The players liked him so much that at homecoming one year they awarded him his own letter sweater. I suspect that he wears that sweater in the skybox as he often did at athletic events in the fifties. Mrs. Campbell would be a great host, too. Hollywood could not cast one better suited to be "the perfect grandmother". She was at her best welcoming students, faculty or legislators into the president's home. I can see her now moving about among everyone in the skybox making sure that everyone is comfortable and enjoying themselves.
Bob Lee Bannerman has not been up there very long but I suspect that Dr. Campbell has already put him in charge of seating arrangements in the box. After all, it was Bob Lee who came up with the idea that became the Seminole Boosters. He also served as the first president of the Boosters. Dr. Campbell would be well aware of what Bob Lee can do. Campbell was the one who authorized Bannerman to organize the boosters.
The first guest to arrive at the skybox for the games each week is most likely Hank Mannheimer. Hank never missed games, home or away, and he always got there early. He wanted to see everything. He was always the first one to get there even for Bobby Bowden's Monday Luncheons. A thoughtful person always, he would save a whole table for those he thought to be good enough fans to sit up front. I felt lucky on those Mondays when Hank would let me sit at the "special table". Not far behind Mannheimer in getting to the skybox would be Dr. Claude Flory. The professor of English, a great supporter of FSU athletics would be sure he got a good seat.
Three Special Deans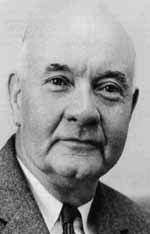 Dean Mode Stone
I suspect that "the three special deans" are in the skybox each game. Lots of deans at FSU have supported football. None have done more than three of the deans that were there when football got going in 1947. They were, Karl Kuersteiner of Music, Mode Stone of Education, and Coyle Moore of Social Work. When Bannerman got permission to organize Seminole Boosters, it was to these three deans that he was referred to for assistance by Dr. Campbell. All three who had already been supportive of FSU athletics totally endorsed the project. In several of the early years, Dr. Kuersteiner, even served in the office of secretary for the Seminole Boosters. All three spent years of service as members of the FSU Athletic Committee. Stone and Moore's efforts have been memorialized by an award named in their honor which is awarded annually by the FSU Sports Hall of Fame Committee to individuals who have devoted years of service to FSU athletics. FSU Board of Trustees Chairman John Thrasher and Florida Senate President Jim King will be receiving that award this Fall. The three special deans attended lots of FSU athletic events both in Tallahassee and away. Dean Moore is especially remembered for his antics at Bobby Bowden lunches in kidding Coach about his insistence on calling reverses during the games. Moore was at his funniest when the reverse in the previous game had resulted in a loss of yards. I suspect that up in the box, Dr. Moore is still getting on Coach's case every time the Seminoles attempt a reverse. Stone and Moore would both, of course, be very popular with their storytelling. I suspect some of the younger fans gather around them just to hear the stories that they have to tell about FSU football and the early days. They were involved totally in the development of FSU football. All three also made special contributions to FSU's academic as well as its sports advancements.
Near the three deans you might also find the two "brothers-in law", Eddie Cubbon and Charlie Barnes, Sr. Cubbon, wife, and daughter, came to Florida State in the early 50's for him to become FSU's Athletic Business manager. Some time thereafter his brother-in-law and family followed to Tallahassee. For many years they would both be instrumental in FSU's athletics programs. Cubbon, always immaculate in dress and grooming added a lot of class to a new program. In addition to his financial duties, he taught, and even coached tennis. Barnes, an official at a savings and loan in Tallahassee, served as FSU's public address announcer at home football games. He was careful at every game to announce the official attendance which would be specified as so many "people and one horse". He also saw to it that the fans were informed of the score of each weekly game being played by Slippery Rock College.
Booster Chairmen
Bannerman would likely make available a special section in the skybox for other former chairmen of the Seminole Boosters. It would include Charles Rosenberg, Payne Midyette, Sr., Albert Yates, Babe Starry, Godfrey Smith, Syde Deeb, Bill Dubey, Lou Hill, and Doyle Pope. Babe Starry as a lawyer was one of my heroes. I had watched him try a jury case when I was in college. His actions inspired me tremendously and I am sure that affected my decision to go to law school. I will never forget watching Starry at the Gator Bowl following the 1964 season. That was the game in which FSU demolished Oklahoma, 36-19. Immediately following the game, Starry, escorted and assisted Fred Biletnikoff and Steve Tensi in signing professional football contracts right there in the stadium. Biletnikoff was a second round pick with the Oakland Raiders where he would play for 14 years. Tensi, a fourth round pick signed with the San Diego Chargers. He would play in the NFL for a total of 7 years first with the Chargers then with the Denver Broncos. After the signings, Starry strutted around with the two great athletes in tow. It was a big day in the history of FSU football.
Deeb, who was also a charter board member, served as the host for the very first Booster meeting as well as many other events thereafter. His home as well as his pocket book was often opened in support of FSU projects and activities. There are lots of stories still circulating about those parties at Mr. Deeb's house. Some of the stories are true. Some are not. Godfrey Smith spearheaded numerous financial drives in support of FSU football and other activities in sports as well as academics. While not a past chairman, Zack Shelley, Sr., the Boosters first Treasurer would also likely be seated with the past chairmen in recognition of the hard work and dedication that he contributed to the founding of Boosters.
Celebrities
There might be a special dignitaries section. Hosting that area of the Skybox would very likely be Leroy Collins. He was a State Senator when the Boosters were first organized. He would later become Governor and serve in positions of national prominence. Throughout his life he was an ardent supporter of FSU. In that section might also be Wilson Carraway, Sr., and Richard Mitchell, Sr. Carraraway, as a State Senator, and Mitchell, as a member of the Florida House of Representatives played vital roles in support of FSU. Both were very instrumental in urging the legislature to force the University of Florida to play the Seminoles in football.
In a seat off to the side, would be a familiar balding man wearing very thick glasses. Before the game, he would be quietly listening to those around him and maybe jotting a note or two. Maybe he is listening to Bill Peterson and taking notes on the former coach's malaprops. McGrotha was one of the best listeners that I have ever known. He was also one of the best writers that I have ever known. He could listen to a long detailed report and later report it accurately and most interestingly. For nearly forty years as sports editor of The Tallahassee Democrat he was the undisputed conscience of the Seminoles. For many of us an FSU football game was not over until we read what McGrotha had written about it in the Sunday issue following the game. If FSU had won the game, McGrotha made the victory even sweeter. If FSU had lost the game, McGrotha made it tolerable. He did not sugar coat it, but he never wrote a column about FSU football that left the reader without a good dose of optimism for the future. I wish very much that he had been here to write about those FSU national championships after the 1993 and 1999 seasons. Perhaps, he did write about them somewhere up there. If he did, I sure hope he saved copies. Hopefully, he also wrote about the national championship games lost by FSU after the 1997, 1998, and 2000 seasons. Those losses still hurt. Maybe McGrotha can help me to put them into perspective as he used to if I am fortunate enough to make it up there.
Players
I expect that a very large section of that skybox is occupied by former FSU football players unless they have a separate "varsity box". At least 18 members of that first 1947 team are up there and I suspect that most of them show up to watch the games. They would include the great wingback Wyatt "Red" Parish, former federal judge D.L. Middlebrooks, one of my high school coaches, Wes Carter, bowling ball running back, Bo Manuel, and really good guy, Billy Bishop, to mention but a few. I wonder if they are still having reunions after the homecoming game each year. After all, Chris Kalfas, a member of that team and their annual host on earth is up there, too, and, who knows, maybe he is operating a "Silver Slipper in the Sky".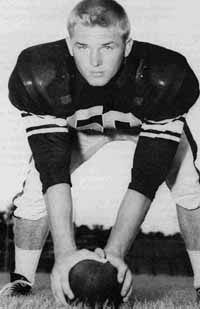 Bobby Crenshaw
Don "Big Head" Powell and Bobby Crenshaw, the captains of the 1955 team, would likely be sitting together. Powell not only played for FSU but also served as an assistant coach. Crenshaw, one of FSU's most outstanding student leaders was commissioned in the Air Force at graduation and died in a plane crash a couple of years after college. John Griner, also from that 1955 team might be with them. He did not miss many FSU games when he was on earth. I suspect that Crenshaw and another guy who played center for FSU, Johnnie Stephens, have gotten to be good friends. Stephens, like Crenshaw was a three year starter at the position and would likely be sitting with the others. Stephens, also like Crenshaw, died while in the military shortly after college graduation. In Stephens' case, he was killed by enemy fire while leading a platoon near the village of Duc Tan in Viet Nam in 1969. The two also had a number of other similarities. Both were outstanding leaders throughout their all too short lives. Both worked very hard for the many honors that they obtained. Del Williams could likely be sitting with that group of linemen. The seven year pro who played for the New Orleans Saints was one of FSU's early stars. Williams and Tony Romeo might even be sitting together. They would have a lot of pro stories to share as Romeo was one of FSU's very early players who played professional football. I am rather confident that Romeo is up there somewhere as he became a very dedicated minister in his later years. Not too far away in the players' section could be Harry Massey. Massey was the starting quarterback for the 1955 Sun Bowl game in El Paso. While at FSU, Massey was also the Senior Class President and later in life served as national chairman of the alumni association and for many years was one of FSU's primary supporters in the West Palm Beach area.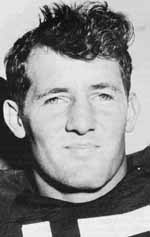 Bobby Renn
"Oh, My, Gene!", Vic Prinzi and Bobby Renn could likely be sitting together. I will never forget Renn's kickoff return against Florida in that first game against UF at Florida Field. That was an awesome way to start a rivalry. Prinzi started that game at quarterback. While we enjoyed Prinzi's playing days, we remember him most for his work alongside Gene Deckerhoff when he did the color commentaries for FSU games. If he is still listening to the radio coverage, I wonder what he thinks about his "Oh, My's" being replaced by Peter Tom's, "I see you's".
Long time FSU trainer Don Fauls, while not a former player, would nevertheless be with that group because the players loved him and would have it no other way. The "Rooster" served as confidant, father, brother, friend and whatever else the players needed. In addition, he was among the most talented sports trainers in the country. Long after they left FSU, professional athletes would call Fauls whenever they needed advice on injuries or conditioning. One of Fauls' closest friends, Dick Howser, would be in that section also. While the sport he played at FSU was baseball, Howser was a major football supporter. Back when fans could help in recruiting, he wrote letters, made phone calls and did what he could to assist. Every Fall when baseball ended, Howser would get back to Tallahassee as soon as possible so he could get to the FSU football games.
The Newcomer
Although Matt Schmauch has not been up there long, I suspect Bob Lee Bannerman has already found a prime seat for him in the skybox in the sky. It would probably be in the players section. Schmauch did not play football at FSU. He was captain of the swimming team and an honor student. However, after obtaining his bachelor and master's degrees from FSU, in 1996 until his recent death, Schmauch worked directly with members of the football and other athletic teams in regard to their academic development. He worked tirelessly and inspired dozens of athletes to reach their potential in the classroom. He will have an especial interest in a number of the current FSU defensive players as he was so close to them. He deserves a good view to watch them play.
I have run out of space. There are a lot more I would like to write about. Suffice it to say, there are a lot of good folks who have passed on who did a lot for FSU football. I sure hope that they are enjoying the games.
This was originally printed in the August, 2003 Seminole Boosters Report To Boosters newspaper. The author and the Seminole Boosters have given their permission to reprint this article.