Garnet & Old
Remembering 'The Magic Dragon'
By Jim Joanos

03/2006
It was the early 1970's and since "Huff" sounded like "Puff," they called him "The Magic Dragon."
In Gary Huff's very first appearance on the varsity for the Seminoles, he displayed his "magic" to enforce that nickname. In the fourth game of the 1970 season, Florida State was losing to the University of Florida, 38-7, with less than seven minutes left in the game. Out of desperation, Coach Bill Peterson sent Huff, the Seminoles' third-string quarterback into the game. Two pass plays later and FSU had passed for a touchdown. FSU held the Gators, got the ball and moved down the field and scored on another touchdown pass. Soon thereafter, FSU got the ball again and scored another touchdown through the air. The game ended UF 38, FSU 27.
While the game ended in a loss to the Gators, the Seminoles won hope for the future. For quarterback Gary Huff, in his first FSU varsity appearance, had thrown three touchdown passes in less than seven minutes.
Huff was born in Natchez, Mississippi. When he was nine years old, his father, an Air Force recruiter, was transferred to a military station in the Tampa area, so he and his family moved there. By the time Huff graduated from Tampa's Leto High School in 1969, he had become a three-sport high school all-star, making all-conference teams in football, basketball, and baseball.
From the offers he received from college recruiters, he chose "to come to FSU to be a quarterback." He knew "that Coach Peterson recruited quarterbacks nationally" and he "wanted to compete with the best." And that is what happened. At FSU, he became an outstanding quarterback.
Freshman Football
Huff's stardom did not begin immediately. Those were the days of unlimited scholarships. Freshmen could not play on the varsity, consequently when Huff arrived at FSU he reported to the freshman team. He looked around and discovered that in addition to himself, FSU had also signed 11 other freshman quarterbacks that year.
Somewhere during that freshman season, he discovered that he was ranked sixth among the 12. He got to play only one half of one game of freshman ball that freshman year. For some reason, although he was sixth string, he started the freshman game against the University of Miami's first year team, and played the first half. In that half, he threw for over 300 yards. He had some pretty good receivers. They included Barry Smith, J.T. Thomas, and Gary Parris, all three of whom would play in the National Football League for about 10 years. Although Thomas, the first African-American to play varsity football at FSU, would later be converted to defensive back, he played wide receiver as a freshman.
Despite Huff's spectacular success in that lone half, he was not used again in any of the other freshman games that year.
Something interesting happened to Huff on the academic side. At FSU, all freshmen were assigned an academic adviser. Huff's appointed adviser was a graduate student who had formerly been a football player of some note, one T.K. Wetherell. It must have worked -- for Huff would maintain high academic standards during his entire tenure at FSU. He truly mixed excellent academic accomplishments along with his athletic prowess.
During spring practice in 1970, Huff got a better look from the Florida State coaching staff. During the process, he moved from sixth team on the freshman team to third team on the varsity where he would spend most of his sophomore year, his first on the varsity.
The 1970 season
After his heroics in the fourth game against Florida, Huff got a couple of starts later and shared playing minutes at quarterback with primary quarterback senior Tommy Warren. He played well but not as spectacularly as he had against the Gators. The Seminoles lost their fifth game at Memphis State but then beat South Carolina, Miami, Clemson, Virginia Tech, and Kansas State, before losing the last game of the season to Houston, 21-53. The bad loss to Houston kept the team out of bowl consideration although they had completed a 7-4 season.
Less than a month after the Houston loss, Bill Peterson accepted the head coaching job at Rice University and moved on from FSU. Although Pete had been quite happy at FSU, Rice had come calling with a thick pocketbook and an arrangement that was too good to pass up.
Soon thereafter, Larry Jones, defensive coordinator at Tennessee, was appointed to replace Peterson and became FSU's sixth head coach since resuming college football in 1947. Huff describes Jones as a "real fine man" who had "good defensive credentials."
A two-sport Star
Huff had wanted to play baseball as a freshman but was not allowed to by Peterson. However, in the spring of his sophomore year, he became a two-sport star alternating between the baseball diamond and spring football practice. He did a good job in both pursuits. He played shortstop for the baseball 'Noles in 17 games and batted .372, which was the highest average on the team although he did not have enough appearances to receive the official batting crown.
He helped lead the team to a 41-16 season and a final season ranking of 23rd in the nation by Collegiate Baseball. In spring football, Huff emerged as the team's starter at quarterback.
Larry Jones' first season
Larry Jones' first year as FSU's head coach was a good one. The offense led by quarterback Huff and coached by former Alabama All-American quarterback, Steve Sloan, as offensive coordinator, was explosive. The team won its first five games over Southern Mississippi, Miami, Kansas, Virginia Tech, and Mississippi State, before fumbling away (five turnovers) a 17-15 game at Florida. They then beat South Carolina, lost to Houston and Georgia Tech, and ended the regular season with two wins over Tulsa and Pittsburg for a season record of 8-3.
Huff had been outstanding during the year. His statistics led the nation in three categories: total offense (2,653 yards), passing yards (2,736), and touchdown passes (23).
The 8-3 regular season record got the Seminoles an invitation to the first-ever Fiesta Bowl in Tempe, Arizona, to play the hometown Arizona State Sun Devils who were ranked sixth in the country. The game turned out to be one of the most entertaining shootouts in bowl history. It was a passing duel between Huff and Arizona State's Danny White, who would later quarterback the Dallas Cowboys in the NFL. Neither team could stop the other. In the end, Arizona State scored last and won the game 45-38. Despite the loss, Huff was named the most valuable offensive player of the game. He had completed 25 of 46 passes for 347 yards. Three of his receivers, Rhett Dawson, Barry Smith, and Kent Gaydos each recorded more than 100 yards in receptions. Huff remembers it as the "most exciting game that I ever played."
During the game he was knocked down 29 times but survived to put on one of the best passing shows in bowl history.
The 1972 Season
With Huff returning as well as a number of other good players from the 1971 team, the 1972 season looked to be a very promising one. However, the previous year's offensive coordinator, Steve Sloan, had moved on to another job in his coaching career. Sloan had been quite effective in operating the FSU offense in his one year with the Seminoles. In addition, early in the preseason practices, FSU suffered several injuries and the bad luck continued throughout the season. Despite the injuries, the season started out well with FSU defeating both Pittsburgh and Miami on the road, then winning at home over Virginia Tech, and in the fourth game beating Kansas at their place.
But in the fifth game at home against Florida, that most promising season took a big hit when the Gators took charge midway through the game and handed the Seminoles their first loss of the season, a bad one - 42-13. To me, it was probably the most disappointing loss in the history of FSU football. So much had been expected of the Seminoles before that game. The Seminoles seemed to rebound somewhat with wins against Mississippi State and Colorado State, but then they lost three of the final four games of the season to Auburn, Houston and South Carolina, winning only against Tulsa. Although the record was 7-4, there was no bowl bid at the end of the season. What had been a very promising season ended in disappointment.
Although it had been an up and down season for the team, Huff, nevertheless, had a good season in quarterbacking the Seminoles. He had completed 206 passes of 385 attempts for 2,893 yards and 25 touchdowns. As a result, at season's end he garnered a number of honors including being selected as a first-team All-American on Time Magazine, Football Writers' and Pro-Football Weekly's teams as well as second-team All-American on the United Press International team. He was 10th in the Heisman Trophy balloting. A special honor was his being selected as the best senior player in the State of Florida by Florida sportswriters. Over the three years that Huff had played for FSU, he set a number of new school records up tot that time, including passing attempts (839), completions (461), passing yards (6,725), total offense (6,394 yards), and touchdown passes (54).
After College
Three very important things happened to Huff in early 1973. "First and foremost," he married his childhood sweetheart, Susan, whom he had met in his junior year of high school. Susan had preceded Huff in graduating from FSU. Secondly, Huff was drafted by the Chicago Bears in the second round of the 1973 NFL draft with the 33rd overall pick. Thirdly, he completed his Bachelor of Science Degree in Accounting from FSU. He had been an excellent student and active in extracurricular activities. His combination of athletics and scholarship afforded him Academic All-American honors.
Among his many honors at FSU was membership in the school's Gold Key student leadership honorary. He was also very active in his college fraternity, Lambda Chi Alpha, coincidentally the same fraternity that two other earlier FSU greats, Fred Biletnikoff and Ron Sellers, had been members. Later in 1983, Huff's successes at FSU were recognized when he was admitted into the Florida State University Sports Hall of Fame.
Unfortunately, he did not fit in very well in his four-year tenure with the Chicago Bears. Under George Halas, the Bears primarily utilized a running attack and rarely passed the ball, so Huff served primarily as the backup quarterback. Consequently, he was very happy to be traded to the Tampa Bay Buccaneers in 1977 despite that it was the Bucs' second year in existence and they had not yet won a ball game.
The move gave Huff a chance to utilize his passing skills and the team was located in his home area where he had grown up. He came home to a much better fit for him. He became a starter and in the last two games of his time at Tampa Bay he led the team to its first two victories ever over the New Orleans Saints and then the St. Louis Cardinals.
From 1980-81, Huff was with the San Francisco 49ers, coached by Bill Walsh. As such, he worked with some other outstanding quarterbacks including Joe Montana and Steve DeBerg.
An accountant
During his NFL career, Huff took advantage of the time available between seasons to advance his accounting career, working with some of the blue chip accounting firms in Chicago and Tampa. By 1977, he had passed all required examinations and attained Certified Public Accountant status. Following his retirement from professional football in 1981, he worked full time as a senior auditor with an accounting firm in Tampa. However, that lasted but a couple of years when his attention turned back to football.
Coaching
In 1983, for one season, he was the offensive coordinator under head coach Sam Wyche at Indiana University. From 1984 through the 1985 season, he was a player-coach with the Memphis Showboats of the United States Football League. Then back in the NFL, he spent a season coaching the quarterbacks for the Houston Oilers. His last coaching experience was as the offensive coordinator for the University of Kansas in 1987.
C.F.O. of the Los Angeles Raiders
After the 1987 season, Huff got a most fortunate opportunity to combine his love of football and his accounting skills, when he became the Chief Financial Officer of the National Football League Raiders. The home for that team at that time was in Los Angeles. He spent over six years in that capacity. He has lots of stories about working for one of the most interesting people in professional sports, Al Davis, the owner of the Raiders. Huff describes Davis as a "perfectionist" who is "very, very thoughtful and extremely detailed."
He added that Davis' slogan, which is also that of the Raiders is "commitment to excellence" and that Davis lives that way and that attitude is "filtered down throughout the Raider organization." While Huff was with the Oakland Raiders, he was joined at that organization by another former great Seminole player when his Lambda Chi fraternity brother, Fred Biletnikoff, came back to the Raiders as the wide receivers coach.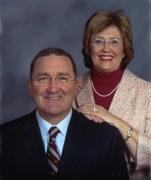 Following his experiences with the Raiders, Huff took a position as the vice president for operations with a wireless telephone company in Jackson, Mississippi, where he worked for seven years ultimately gaining part ownership of another wireless company in the state of his birth. In 2001, he came back to Tallahassee as the Chief Financial Officer of a large information systems company and worked in that capacity until recently. He very much enjoys Tallahassee and hopes to continue his career in this area. He and wife Susan have four grown children. The Huffs are good citizens and participate in numerous community activities. As an example, Gary is the Chairman Elect of the Capital Area Chapter of the American Red Cross.
Huff's thoughts of FSU and Bill Peterson
Gary Huff has lots of good things to say about Florida State. He says that, "Florida State has always been a place I call home. It has brought great joy for Susan and me to see how the university has grown. Florida State is now in the big time just as the Alabamas, Penn States, and Nebraskas of years past. There is no reason why FSU cannot keep that status."
He believes that "it began with Bill Peterson who got us into the passing game."
His favorable thoughts continue to Coach Peterson who brought Huff to Tallahassee to play quarterback.
"It is an understatement to say Peterson was intensely passionate about the game of football and making FSU the premier 'pro style' passing team in the country. Because of his commitment to excellence in this respect, Coach Pete kept FSU in the national spotlight with quarterbacks like Steve Tensi, Kim Hammond, Gary Pajcic, Tommy Warren, Bill Cappleman (all my heroes), and receivers like Fred Biletnikoff, Red Dawson, Chip Glass, Ron Sellers, Billy Cox, Barry Smith, Gary Parris, Kent Gaydos, Joe Goldsmith, Dano Fiore, and Rhett Dawson (the guys that make the QB's look good)."
He also has kind words for his baseball coach at FSU, Jack Stallings. He describes Stallings as a "master of strategy" and says that he "learned a lot" about the game from him.
Huff sums it up by saying that he was "so blessed to attend Florida State when I did. I went through the school of accounting that was one of the best in the country. I played quarterback for college football's most prestigious passing team and went to a bowl game. I played baseball for a team that went to the playoffs and had recently played in the College World Series. I have had so many experiences at FSU that allow me to relate to many different groups of FSU graduates that makes living in Tallahassee such a pleasure for Susan and me."
Gary Huff's magic has been very much appreciated at Florida State.
This was originally printed in the March, 2006 Seminole Boosters Report To Boosters newspaper. The author and the Seminole Boosters have given their permission to reprint this article.