Garnet & Old
A look back at the legend, 'Harbie'
By Jim Joanos

9/2006
Florida State has been blessed with lots of outstanding assistant football coaches during the years. There is one that many of us refer to as "The Legend." His 37 seasons on the staff for seven different head coaches is longer than any other football coach has ever served on the FSU staff.
Bob Harbison came to FSU in 1948, one year after the school took up football in the modern era, with newly hired head coach Don Veller. He coached at FSU every year thereafter through the 1985 season with the exception of the 1973 season when he sat out a season. Shortly after Harbison retired, the famed and beloved Tallahassee Democrat sports writer, Bill McGrotha, pointed out that the "story of Harbie has, at times, approached the legendary among many Seminoles. Some think he hung the moon."
"Harbie", as he is popularly known, unquestionably, has been one of the most important people in the development of FSU football.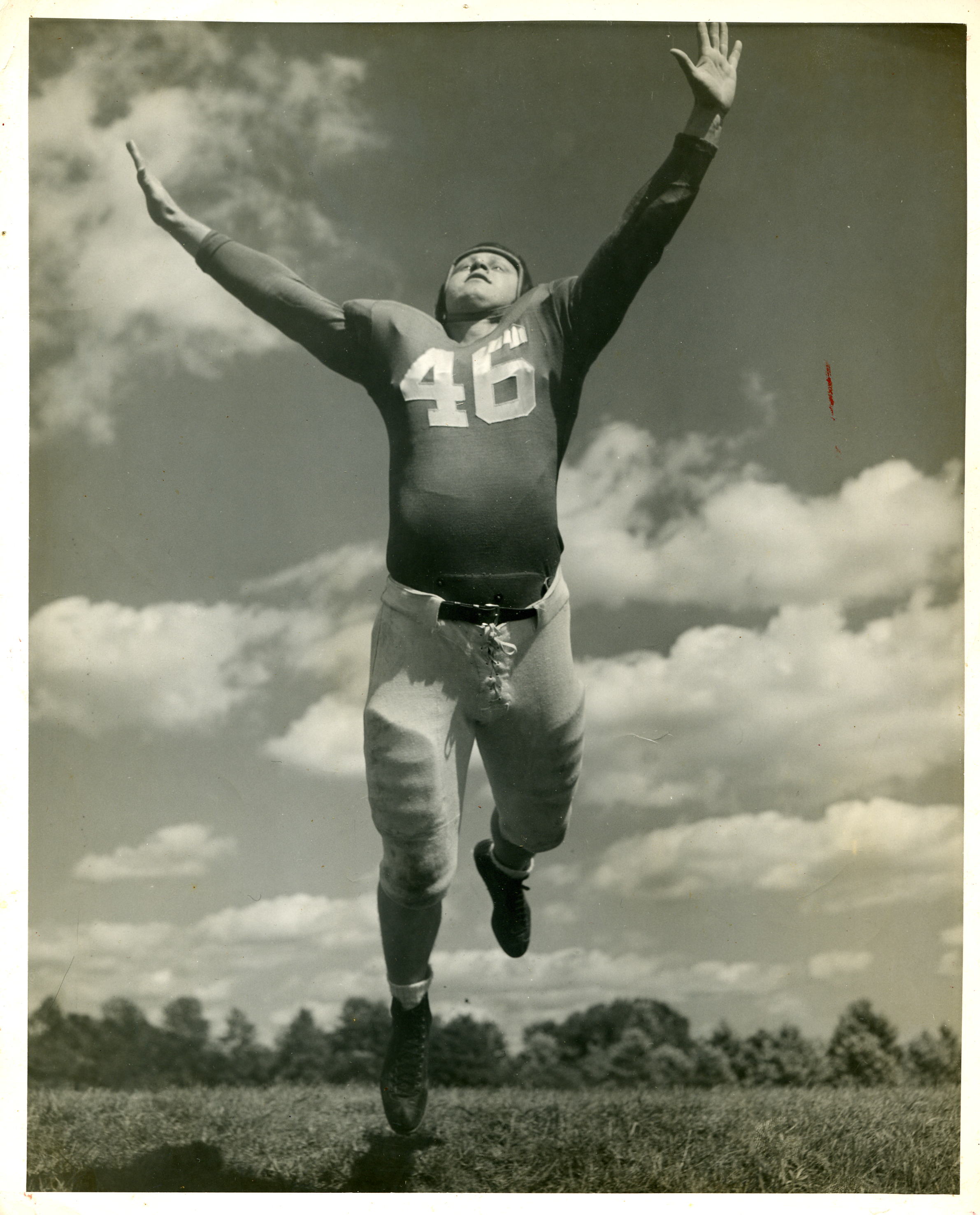 At Indiana
Before coming to Florida State, Harbie was an outstanding lineman at the University of Indiana where Veller was an assistant coach. In 1947, FSU selected Don Veller to become its head coach. Harbison was one of three assistants that Veller hired to round out his coaching staff. The other two were brothers, Charlie and Bill Armstrong. The Armstrongs had also played their college football at Indiana. The coaching responsibilities were divided with Harbison and Charlie Armstrong coaching the linemen while Veller and Bill Armstrong coached the backs. At the time players customarily played both offense and defense as the rules limited substitution.
Harbison grew up on a farm in Petersburg, Indiana. One of his school classmates, a brother of baseball great Gil Hodges, talked Harbison into going out for football. The school was so small that it played six-man football. In his junior year he moved on to Evansville, Indiana, and finished high school there where he first played the standard 11-man football. Playing football turned out to be a good decision as Harbison went on to the University of Indiana where he not only played college football on a championship team, but continued his education. When Veller asked Harbison to join him in Tallahassee, Harbie welcomed the opportunity as it seemed a great deal more interesting to him than his other alternatives of getting a job in a coal mine or going back to Petersburg and a career in farming.
Harbison is known for a number of special attributes. They include his success as a recruiter, his ability to scout an opposing football team and his skill in coaching linemen.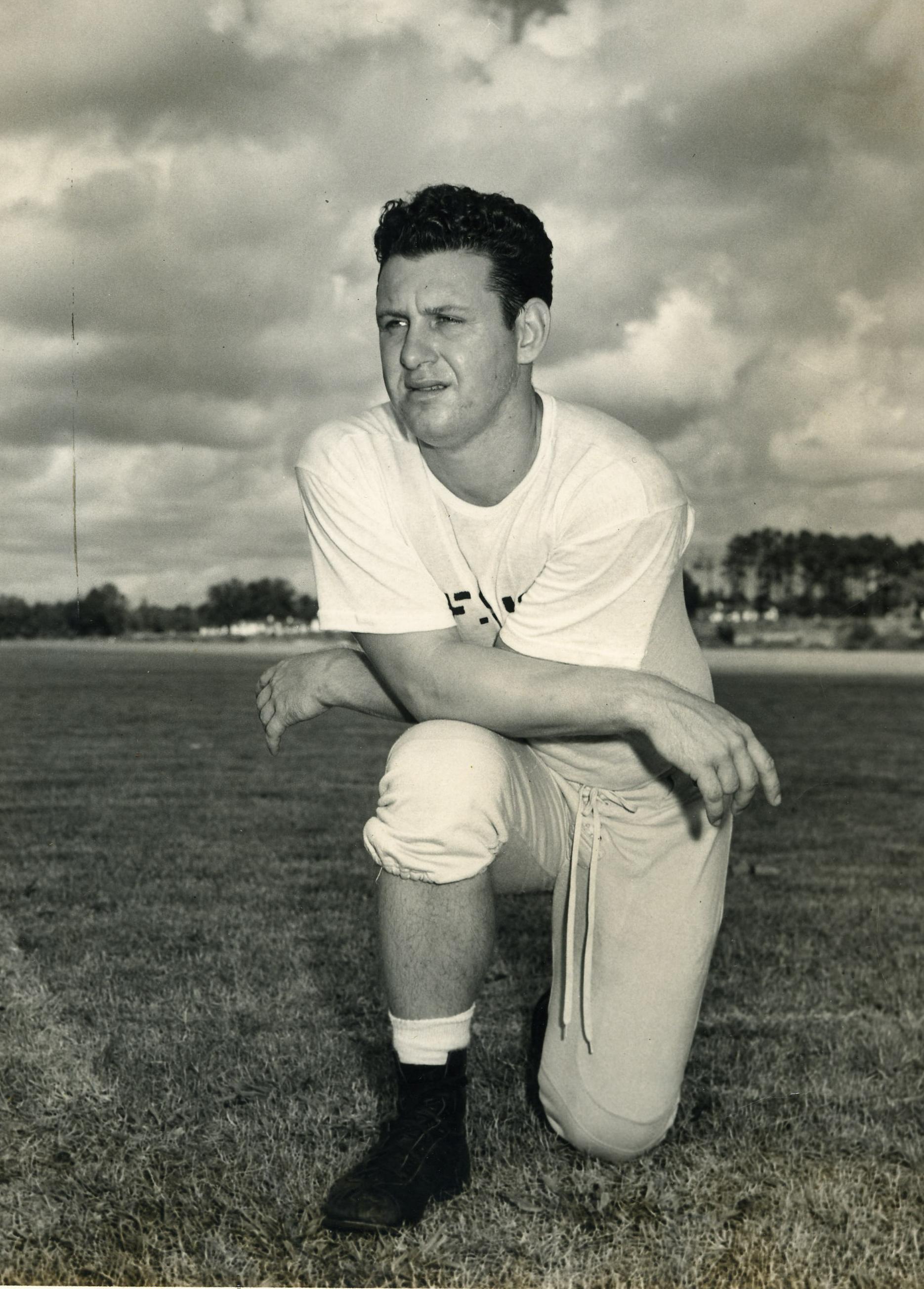 Bob Harbison spent 37 years as an assistant
football coach at FSU
Recruiting
Gene McDowell, the former head coach at the University of Central Florida, says that Harbison, "is, if not the best, certainly one of the very best recruiters" that he has ever known. McDowell knows Harbie as one of his coaches when he played at FSU, as well as a fellow assistant coach, and as a personal friend. McDowell served as an assistant at FSU along with Harbie for a number of seasons. McDowell explains that the characteristic that made Harbison a premier recruiter was "his ability to recognize talent." He said that "Harbison could watch a high school player perform and determine whether or not he could play at Florida State."
There are numerous stories about players that Harbison recruited for FSU. Some of those stories include the recruitment of Deion Sanders. They have to do with the low key and soft spoken, no bull Harbison and his reaction to the flamboyant Sanders. They tell of how Sanders, a high school option quarterback, who was being recruited by very few other schools to play football, was spotted by Harbison. Harbie saw that Deion had the attributes that would make him an excellent college player for FSU. An interesting relationship developed between them. The end result was that Sanders resisted a high-powered recruitment process by the Kansas City Royals who desperately wanted Sanders to sign with them to play baseball. The process included almost daily telephone calls from of the Royals. Ultimately, as you know, Harbison's recruit became one of the very best athletes ever to play football for the Seminoles.
One of my favorite Harbison recruiting stories is about how he uncovered a bare foot kicker on a junior college team in Virginia and got him to come to FSU. Few would have believed that Frank Fontes would have had the success that he enjoyed at FSU. Fontes led FSU scoring both years that he kicked for FSU in 1970 (64 points) and 1971 (69 points), all with his bare foot. Fontes still holds the FSU record for most field goals attempted in a single game (8, against Wake Forest in 1970).
There are stories about the success that Harbison had in recruiting players out of Leon High School when he had the local Tallahassee area as his recruiting assignment. The stories describe the "Leon Connection" and the relationship between Harbison and the local school in the mid 70's when Gene Cox, an FSU football alumnus was the coach at Leon and was producing powerhouse championship teams. For several years there were five or more players from that same high school that were part of the FSU teams that under "new coach" Bobby Bowden were building the foundation for the Seminoles' move into the upper echelons of American college football.
Three of the players on FSU's team during Coach Bowden's second season when the team went 10-2 were Leon players that Harbison had helped recruit. They were quarterbacks, Wally Woodham and Jimmy Jordan, and defensive back, Ivory Joe Hunter. That was FSU's first ever 10-win team. FSU finished the year in 14th place in the AP national rankings, the highest finish that FSU had ever attained up to that time.
Harbison also used old ties to recruit for FSU. To pick up Lane Fenner, Harbie spotted him at Harbie's own former high school in Evansville, Indiana, and persuaded the lanky receiver to come to FSU. At FSU, Fenner received a great deal of notoriety when he made the famous would-be winning touchdown catch thrown by Gary Pajcic, another Harbison recruit, against Florida in 1966 that was ruled out of bounds. Seminole fans simply refer to that play as "The Catch."
There is also a wonderful story about how Harbie tried to recruit another player from the State of Indiana. Harbie even got the kid to come to Tallahassee on a recruiting visit. Unfortunately, the other coaches on the team nixed Harbison's recruit as being unfit for college football as the prospect was "too fat and did not look like a college player." As a result, Alex Karras ended up at the University of Iowa, where he won the Outland Trophy after his senior season as the nation's best lineman of the year. Karras later starred in the NFL for many years, was a professional wrestler, a movie actor and has been inducted into College Football's Hall of Fame.
When reminded of Karras, Harbison smiles. He is quick to say that he "did miss some good ones, too." He chuckles and mentions Jack Youngblood from nearby Monticello who Harbie "did not see a lot in." Youngblood, thereafter, walked on at the University of Florida and became a most outstanding player and later starred in the NFL. As a further illustration, he points out that in recruiting quarterback Gary Pajcic who was very much in demand, he learned that Pajcic had a very close friend and that the two desired to go to the same college. Although the close friend was "too skinny for football" Harbison got FSU to offer both. That is why Ron Sellers, an all time great receiver, was recruited and came to FSU. Harbie concludes, "you have to be lucky, too."
Harbie to this day says that "recruiting is the game in this league." "You cannot win the Kentucky Derby with a donkey."
Scouting Opposing Teams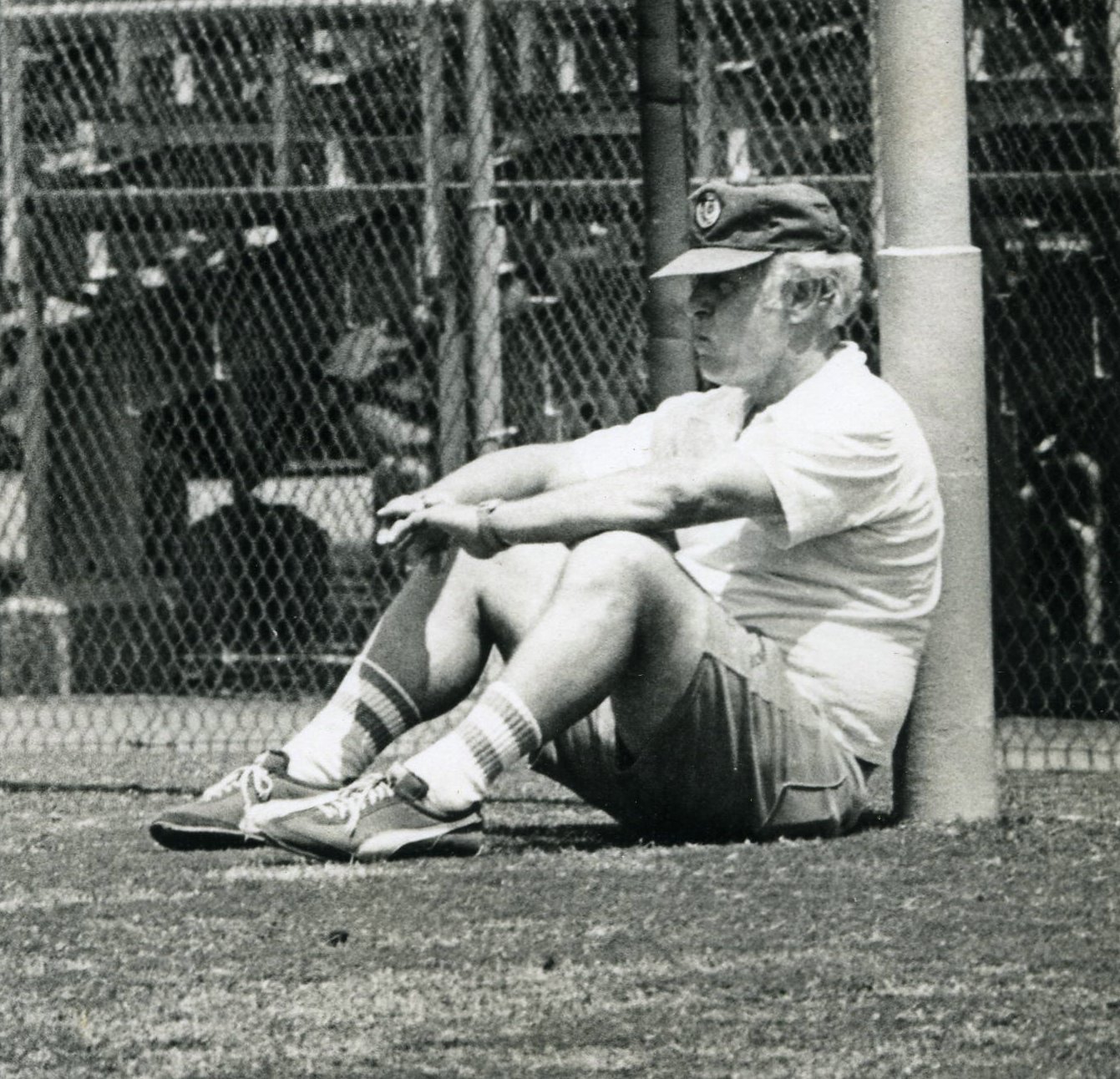 Harbison helped convince Deion Sanders
to spurn pro baseball for FSU
Becoming informed of opposing teams, their abilities, techniques and tendencies has always been important in football. During most of the years that Harbison coached, the methods for doing that were very different from the present ways. Then you did not have much in the way of previous game films, nor the computerized technology and staff assistants now available with which to break down and understand the propensities of the opposing teams. Instead, it was customary to have each of the individual assistant coaches in addition to their other responsibilities, held responsible for the gathering of information about the opposing teams. When the week of the game against that team came, a previously designated assistant coach would brief the rest of the coaches and the players on the propensities of that opponent. The assigned assistant would also have a major role in developing the game plan for that specific game. Harbie describes it thusly: "Everybody had a team or two. You would have one or two teams. You would collect, cut out newspaper clippings and post them on the bulletin board. It made you feel special about that game".
Head coach Bill Peterson is reported as saying that Harbie was called "Eagle Eye." Jim Selman, a sports writer for the Tampa Tribune wrote in a 1978 article that Harbison "earned that nickname because of the precise scouting reports he turned in on opposing teams." Also in that article, he quotes Peterson as saying that "what he presented, the kids respected." Selman also quoted longtime and very knowledgeable FSU trainer, Don Fauls as saying that "75 to 80 percent of the games he scouted for us, we won." Winning 75 to 80 per cent of our games during most of those years was astronomical.
Shortly after Harbison resigned following the 1985 season, Bill McGrotha, in the Tallahassee Democrat, described Harbison's ability to scout opposing teams as follows: "Part of the legend is that no one scouted games as well as he, no one could get more out of studying films than he, no one knew the game of football better - the little details. There is the memory of times in the 1960s when writers would nudge one another before a game and say: 'The Seminoles have this one in the bag. Harbie scouted.'"
Coaching Skills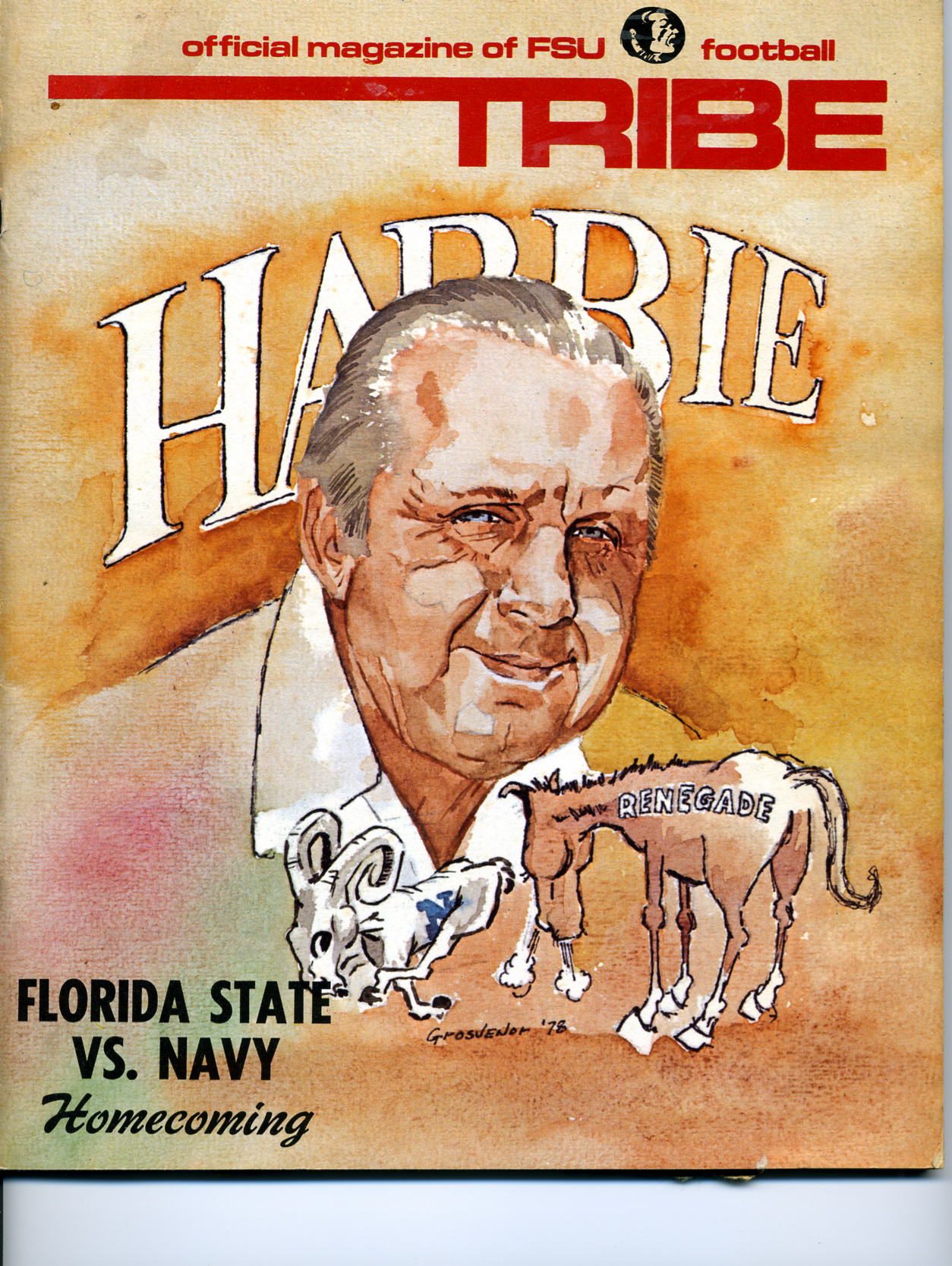 'Harbie' retired in 1986
When you talk to former players that were coached by Harbison, one of the thing they remember most was that he was a very competent teacher. Harbison has throughout his coaching career been a line coach. In 1948, when he came to FSU and for a number of years thereafter, players played both ways, on offense and defense. Consequently, he had to coach linemen to play on both sides of the ball. After the rules changed and free substitution was allowed in the sixties, Harbie coached defensive linemen. He also became the team's Defensive Coordinator. In his first season in that capacity, Harbie organized FSU's first great defensive team, which became known widely as featuring the "Seven Magnificents" and the "Forgotten Four." Just prior to the 1964 season's beginning, each of the seven linemen and linebackers had their heads shaved in Yul Brenner fashion. At the time, a movie that Brenner starred in, "The Magnificent Seven" had just become established as a classic film. Similarly, Harbison's "Seven Magnificent's Defensive Team" has become a "classic" in FSU football history. Nearly every book written about the overall history of FSU football includes photos of that team and those shaved heads. That defensive team began the 1964 season by holding all three of the first teams FSU played scoreless. During that 9-1-1 season, which culminated with a victory over Oklahoma in the Gator Bowl, all of FSU's opponents together only scored 85 points compared to the Seminoles' 263. That was less than eight points per game. No FSU team since has equaled that feat.
Harbison was exceptionally talented at designing defensive schemes. It seems that he had a good scheme for every team FSU faced. Whether it was a running team or a pass crazy one, he seemed to have an answer. When asked about his ability to defend against various offenses, he responded by saying that "you have to have a package...a variety. When you run into a hot receiver, maybe you can double on him and your team is familiar with doing that." You need a whole system.
Of all the defensive plays called during his coaching, he is proudest of one special call which he terms "the best call I ever made." It was in the Gator Bowl game following the 1967 regular season. Penn State, under then second year head coach, Joe Paterno, was dominating the Seminoles. It was early in the third quarter and the Nittany Lions were leading FSU 17-0. Harbison admits that up to that point he had been fooled "a time or two" by Paterno's offense. Then with the ball on Penn State's own 15-yard line and fourth and inches to go, Paterno, still very confident in his offense, decided to go for it. At first Harbison had his punt return team ready to go in, but when he saw that Penn State's punter was not entering the field of play, he immediately changed his strategy. However, instead of putting in a safe, more conservative defensive alignment, he took a big gamble and put in the "goal line defense." Penn State failed to get the required inches on an attempted quarter back sneak and FSU took over the ball and the game. Immediately thereafter, FSU's famed passing tandem of Kim Hammond to Ron Sellers completed a quick touchdown pass. The Seminoles later scored another touchdown and in the closing moments kicked a field goal to end the game in a 17-17 tie. Harbison enjoys reminiscing about that game. He adds a footnote, that a few years later, on a visit to Penn State when Harbie had an opportunity to be in Coach Paterno's office, he noticed a sign prominently displayed, that said simply, "When in Doubt, Punt." It is one of Harbie's fondest memories of a lifetime in coaching.
When Bill Peterson left FSU after the 1970 season, Larry Jones became the head coach. Jones' experience was primarily as a defensive coach, so the head coach took over the overall responsibility for the defense. Harbison was moved over to the other side of the ball and became the offensive line coach where he would coach thereafter. Harbison did not mind as he says "he was getting old" and coaching offense was "less physical" than defense. He adds "in coaching defense, you have to get out there with the players and mix it up with them. Offense does not require the same kind of physical stuff." He had coached offensive techniques in his early years at FSU, so did not find it difficult to adjust. He proved to be an excellent offensive line coach and continued in that capacity under head coach Darrell Mudra and into the first 10 of the Bobby Bowden years.
Harbie trained his linemen very hard but was very fortunate to suffer limited injuries. One interesting technique that he employed was to have his linemen do their practice hitting less than a yard apart. In that way "you could hit for a long time and not get hurt too much." One player that he regards as a model of an outstanding offensive lineman was Ken Lanier who played at FSU from 1977 to 1980. After college, Lanier played in the NFL for 14 years mostly with the Denver Broncos. Harbie says that "Lanier could do everything you asked of him."
When asked about his coaching skills, he describes it as "like anything else." It is having people listen to what you are trying to teach them. If they believe in what you are telling them, you can get them to believe they will win. If not, you have trouble. The more success you have, the more you believe."
Retirement
Harbison retired in 1986. Shortly thereafter, he was inducted into the FSU Athletics Hall of Fame. In looking back over his career, he says that "it has been an interesting life. I have griped a lot but have never wanted to do anything else."
In retirement, Harbison has been able to do a lot of things that he did not have "time to do earlier." He fishes and hunts often as he loves the outdoors. He also "reads a lot," saying that in reading, he discovers some "strange things." Currently, he is reading a book about Ernest Hemingway that includes stories the famous writer wrote in his early years as a newspaper reporter in Toronto.
Bob and wife Jane were able to take time for nice vacations. For 15 straight summers, they enjoyed extended fishing vacations with former FSU player and popular actor, Bob Urich. That pattern ended only upon Urich's death a few years ago. The Harbisons would visit Urich and his family at their cottage in Canada and stay in their guest house. Harbie admits "how strange it was the first time, to be holding a light in a boat at night for a famous movie star that was wading in the water trying to catch night crawlers."
Harbison's wife, Jane, died suddenly this past summer. They had been married for 58 years. It hit him very hard but he is "handling it" well. Fortunately, he has close regular contact with their children and lots of friends who have helped make it bearable. He continues to involve himself in interesting activities and is positive about the future.
Lots of Harbie's former players and coaching colleagues stay in touch with him on a regular basis. When asked to name some of his favorite he would not. There are "too many of them and I might leave somebody out," was his reply.
Although, Bob Harbison uses words very sparingly and directly, he is a master in communicating. He can say more in a few words than most people can in a paragraph. His short, succinct answers to inquiries are remarkable. In 1970, Tampa Tribune writer, Monroe Adams recognized this trait of Harbison and wrote, "'Harbie' speaks quietly and seldom, but when he makes an utterance, it usually means something." It is easy to see why Harbie is a great coach, a great teacher of men. He captivates people with his candid statements and ability to go immediately to the key point. If you listen to him carefully, you can learn a lot very quickly not only about the inner workings of football, but more importantly about what is most important in life. "Wise" is the best word that I can come up with in describing Harbison who has been a family friend since he came to Tallahassee. Florida State is very fortunate that Bob Harbison has been here to help develop the football program into one of the best.
This was originally printed in the September, 2006 Seminole Boosters Report To Boosters newspaper. The author and the Seminole Boosters have given their permission to reprint this article.