Garnet & Old
Dr. Hartley Price and FSU's First National Championships
By Jim Joanos

09/2007
Florida State University won its first ever collegiate national team championship in 1951. It was in the sport of men's gymnastics.
In the nineteen fifties, Florida State had one of the best gymnastics programs in the country. I was lucky enough to attend FSU during some of those gymnastics glory years. In writing this article I have been inspired by memories of watching those great athletes perform. I will always remember Bill Rotzheim gliding from apparatus to apparatus and Dick Gutting bounding almost to the ceiling off the trampoline. I also attended several of the Gymkana shows that spotlighted the skilled athletes performing in sync with music, dance routines, beauty contests, and pageantry at its best. In addition, I have had the benefit of two great sources of information on FSU's gymnastics history: (1) the book entlitled, The Spirit of Gymnastics: The Biography of Hartley D'Oyley Price (1982), by Tom Conkling; and (2) the web site, http://fsugymnastics.org maintained by Mike Mann. I am indebted to both sources for much of the substance of this article.
Howard Danford
Shortly after World War II ended, Florida State College for Women, became coeducational and renamed Florida State University. To accommodate the addition of male students, a men's physical education and athletics department was created. The unit had the multiple responsibilities of providing physical education courses and programs, operating a men's intramural program and administering FSU's entry into the world of male intercollegiate athletics. The pre-existing women's physical education department was retained and continued to provide academic and intramural physical education programs for women. There were no women's intercollegiate teams at FSU or for that matter at most colleges and universities in the nation.
Dr. Howard G. Danford was selected to head up FSU's new men's physical education and athletics department. Dr. Danford's attitude toward sports was considerably different than present day university athletic directors. While the big three sports, football, basketball and baseball were important to him, he placed almost equal importance upon other sports. Under his leadership, intercollegiate competition was organized in his first FSU school year, 1947-48, in football, basketball, baseball, tennis, golf and volleyball. In his second year at FSU, 1948-49, track and field as well as swimming were added to the mix.
At a physical education meeting in Kansas City, Missouri, Danford met Hartley Price, the gymnastics coach of the University of Illinois, who had already attained major status in the fledgling sport of gymnastics. Gymnastics was a sport which was quite popular in the Midwest and was expanding somewhat throughout the United States. Danford approached Price about coming to FSU to teach physical education and begin a gymnastics program. Price agreed to visit Tallahassee. The trip by Price and wife, "Billie", sold them both on the project and soon Price was added to the physical education faculty at Florida State. Almost magically and immediately upon Price's coming to town, Tallahassee became the "hot bed" of the expanding sport of gymnastics.
Hartley D'Oyley Price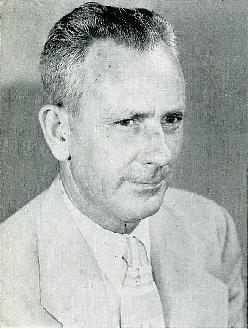 Hartley Price
Hartley Price was born in Brisbane, Australia in 1902. As a youngster he played soccer and rugby but it was in gymnastics that he was most successful and competed on a national level. By the age of 20, young Price had served an apprenticeship in mechanical engineering. However, it was sports that was his passion. Price learned that Springfield College in Massachusetts was highly regarded as to its physical education teaching program. Consequently, at the age of 21, in March, 1924, Price crossed the ocean, and made his way to Springfield College. Soon, he got part time employment and gained admission to the school. While a student, he competed as a member of the school's gymnastics team. He was an outstanding student and by 1927 had obtained his B.S. degree in physical education. It was the first of five college degrees including a doctorate that Price would obtain during his lifetime.
In 1926, during his college days at Springfield, he met Dorothy Wills, of England. They were married when he graduated. "Billie", as she was called, became an important part of his life thereafter. In their tales about Price or "Hart", as they called him, former FSU gymnasts give Mrs. Price much credit for the success that her husband and FSU gymnastics had. They regard them as having been a very special tandem.
In the fall of 1927, the newly married couple moved to Champaign, Illinois, where Price became a part of the physical education faculty at the University of Illinois, a position that he occupied for the 21 years. One of the first things that he did at the University of Illinois was to install the sport of soccer not only at that institution but into the Big Ten Conference. In addition, in 1930, he was appointed the head gymnastics coach at the University of Illinois. In a short time, he became one of the prominent names in the fledgling sport that would eventually grow and gain popularity. In all, he would coach gymnastics for 41 years. At Illinois his teams won four national collegiate, two national AAU, and five Big Ten Conference championships.
In 1933 at the University of Illinois, Price founded the fraternity called "Gymnastica" which was composed of gymnasts and other students who organized and produced gymnastics shows. While at Illinois, he also made other contributions to sports including the introduction of tumbling into college cheerleading. In 1940 he organized a card display section for the university football games. The idea spread to a number of other colleges.
Price's career, like that of so many other Americans was interrupted by World War II. Soon after Japan's attack upon Pearl Harbor, Price volunteered and entered the United States Navy. He became a part of the Navy's aviation program and was assigned duties aimed at conditioning the Navy's pilots. He would rise in rank to Lieutenant Commander during the war.
After the war ended, Price had several options available to him. They included an offer by Auburn University to run its physical education program. He chose to return to Illinois but he and wife, Billie, after having lived for some time in California during his military duty had become quite desirous to live in a warmer climate in the future than existed in Illinois. Consequently, it struck a favorable chord when they later met Danford at that meeting in Oklahoma City and he talked about Tallahassee.
There was not much to work with when Price got to Tallahassee during the 1948-49 school year. The men's gymnasium was a wooden structure previously built for the Army Air Corps training base located a couple of miles from the main campus. The area where it was located served as a "West Campus" for FSU and the barracks located nearby served as housing for the male students that had just been added to the university.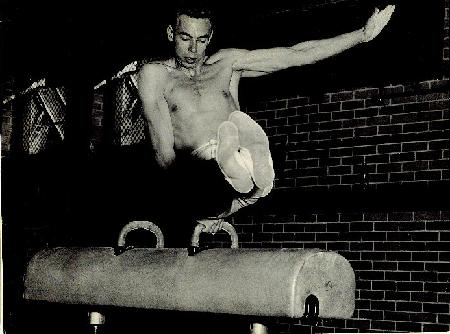 Bill Roetzheim
Bill Roetzheim
It did not take Price long to move things along. By the next school year he had the gymnastics program going. He had even begun a tumbling program for local children which would be named the "Tallahassee Tumbling Tots." The program later became an integral part of the City of Tallahassee's recreation department and would serve thousands of children through the years. It continues to this day.
Several seasoned gymnasts who had earlier planned to go to the University of Illinois followed him to FSU. The most noteworthy was William H. "Bill" Roetzheim. Roetzheim, at 18 years of age, had been a member of the US's 1948 Olympics team. From Chicago, Roetzheim had competed for the the Navy Pier Branch of the University of Illinois and been a national AAU All Around gymnastics champion. Price also stimulated interest in gymnastics in other southern locations including the formation of a league of teams including ones from Georgia Tech and Duke.
FSU began competing in gymnastics in 1950 and went 4-0 in an abbreviated season when in dual meets they beat Indiana, Georgia Tech, Illinois-Chicago, and Maryland. In addition to competing against other colleges that team as well as the others to follow also competed in Amateur Athletic Union events. At the time, AAU competition was keener as it included more amateur teams and athletes and meant more in the selection process for membership in the national and Olympic teams. In AAU competition that 1950 team won the Mid-West, Southeastern and Florida AAU championships. In the national AAU championships, FSU did not win the team championship but Roetzheim won the All Around individual championship.
NCAA Champions
1951 NCAA Champions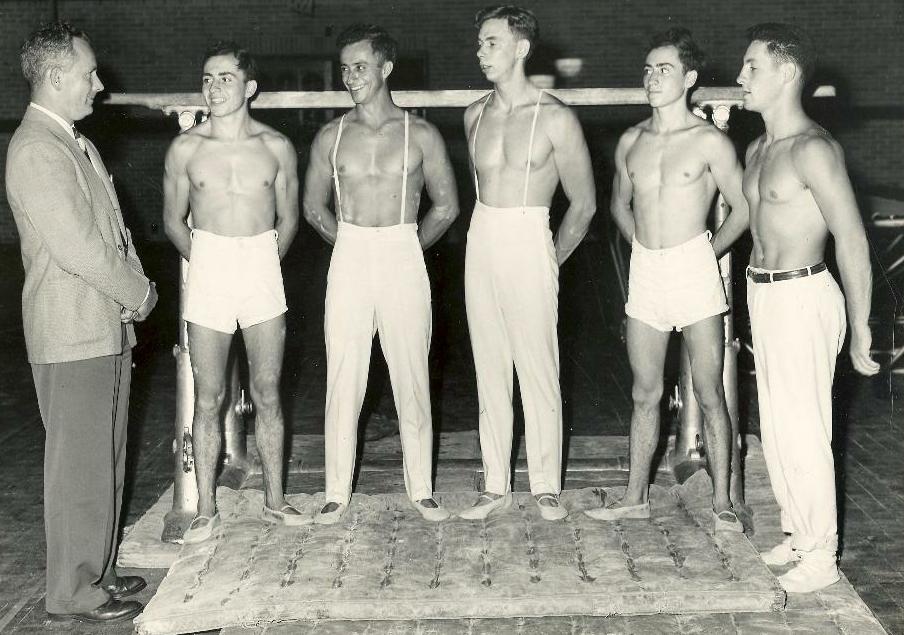 Coach Hartley Price, Joe Regna, Joe Calvetti, Bill Roetzheim, Carmine Regna, Gene Venick
In 1951, FSU 's gymnastics team won the first ever NCAA Championship by a team from the State of Florida in any sport. At the championship meet held in Ann Arbor, Michigan, they beat the college teams from Illinois, Southern California, Navy, Kent State, Syracuse, Michigan State, Army, Michigan, Temple, Penn State, Iowa, California, and Minnesota. They also won the AAU national championship held in Detroit, Michigan that same year. It was the first time that a team from the South had ever won an AAU national championship in gymnastics. In the following summer, FSU's Roetzheim represented the United States at the first Pan American Games in Buenos Aires, Argentina, where he not only won first place in the horizontal bars competition but won the overall gymnastics individual championship as well.
1952 NCAA Champions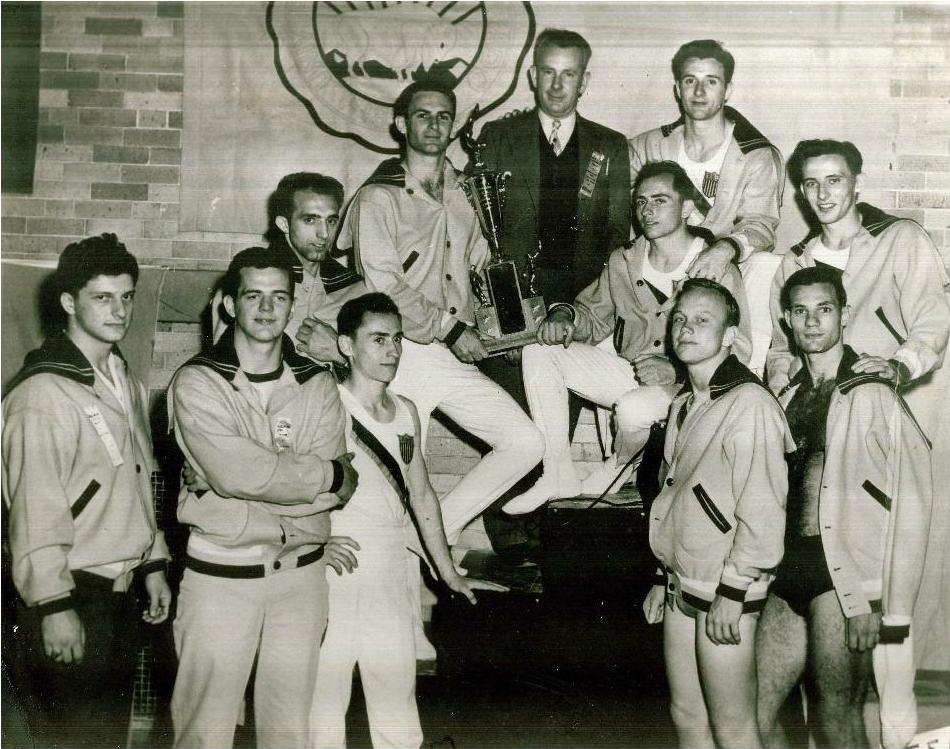 Top Row: Left to Right: Jack Sharp (holding trophy), Coach Hartley Price, Don Holder
Middle Row: Pat Signorelli, Joe Regna, Jack Miles
Bottom Row: Al Ruda, Dick Ireland, Carmine Regna, Larry Weston, Dick Gutting
In 1952, the FSU team repeated as NCAA national champion. Captain of that team was Jack Sharp, a former University of Illinois gymnast who followed his coach to Florida State. At FSU he became the national champion in the flying rings competition. In the summer of 1952, FSU gymnasts Bill Roetzheim and Don Holder competed as members of the U.S. team at the Olympic Games in Helsinki, Finland.
In effect, FSU's new gymnastics program had started at the top. Although FSU would not win another NCAA national championship in gymnastics, it remained very competitive at the national NCAA meets through 1959 placing no worse than ninth each year. On three occasions, FSU finished third (1954, 1956, and 1957). The Seminoles did win two more national AAU championships in 1953 and 55. In all there were five national championships won during the tenure of men's gymnastics at FSU (two NCAA and three AAU). In addition, throughout its existence, FSU's team continued as the dominant team in the South defeating its closest rival, Georgia Tech, on a regular basis. There were also victories over present day ACC rivals Duke and North Carolina.
International competition
Of special note was the FSU team's competion against national teams from other countries. In 1954 in Tallahassee, one of the most exciting events of that era was when FSU took on the world champion Swedish National team and defeated them 50.5 to 45.5. The Seminoles repeated the following year when the touring Swedish team again came back to Tallahassee. In 1956, the FSU team traveled to Havana, and beat Cuba's National team, never mind that two of FSU's team members, brothers Rafael and Fernando Lecuona, competed for the Cuban team that day as they were also members of that team.
Jack Miles has given insight into the type of coach Hartley Price was. Recently, he wrote that Dr. Price "was the team 'coach' and even though he hardly ever actively coached 'hands on' at FSU, he was a superb recruiter, mentor, top administrator, and public relations expert, bar none". Others have described him similarly. The key to Price's success was to bring a group of outstanding athletes together and create an atmosphere of excellence. While the coach gave an occasional tip, the athletes primarily coached each other. It was most conducive to the development of the athletes and they prospered pursuant to the system.
Winds of Change
Athletic director Howard Danford suddenly left FSU in 1957. With his leaving, a major change took place in the direction of FSU athletics. Danford had been a big supporter of an all round program that placed emphasis upon a large number of sports including volleyball and gymnastics. The athletics directors following him, faced with limited resources, sought ways to cut down on the multiplicity of sports programs so that major progress could be made in what they considered the more important sports. Their actions did result in major accomplishments in the major sports of football, basketball and baseball but reduced the number of sports in which FSU thereafter participated. The first program to go was men's volleyball. That program as an intercollegiate sport at FSU was curtailed after the 1957 season despite that the team was the reigning national college champion. Gymnastics hung on a little longer because of Dr. Price's and the teams popularity but ultimately by 1960 the school withdrew intercollegiate support for the sport.
For a number of years thereafter, Coach Price continued to lead the gymnastics team as a club sport. The team was even broadened to include greater emphasis upon women's participation. Earlier, a few women athletes had practiced with the team and participated in the Gymkana shows. Upon the conversion to a club sport, women were allowed somewhat greater latitude in participating as it was no longer an official intercollegiate sport at FSU. A women's team even competed on the national level. Price and the program continued to produce some excellent athletes, both men and women. One who in the seventies became a national champion and Olympian was Gail Sontgerath.
Price retired from FSU in 1971 and died in Tallahassee in 1977. He was honored by inclusion in the FSU Athletics Hall of Fame in 1978. Thus ended FSU's major pioneer role in the US's collegiate gymnastics world. However, the legacy remains. On the Memorial Day weekend each summer, a large group of athletes from those gymnastics glory days gather for a sentimental weekend. Lots of stories are told about the days when they were FSU's first national champions. They correspond throughout the year and remain in close contact.
The glory of yesteryear
Men's gymnastics has provided a rich chapter in FSU's sports history. That chapter includes attainment of the five team national championships, numerous national championships in individual events, no less than 7 Olympians and 26 All Americans. It also includes memories of the seven athletes in addition to Coach Price who have been admitted into the FSU Athletics Hall of Fame: (1) Bill Roetzheim, the U.S.'s all round best gymnast in 1950 and 51, as well as an Olympian; (2) Don Holder, leader of the 1951 and 52 teams, national individual champion, member of US's Pan American and Olympic teams; (3) Dick Gutting, NCAA (1952) and AAU (1952) national champion in the trampoline, 1952 NCAA champ in the long horse, also the first gymnast to perform as "Sammy Seminole" on the sidelines during FSU football games; (4) Jack Miles; leader and member of all five of FSU's national championship teams, national champ in the flying and still rings, member of U.S. National Pan American (1955) and Olympic (1956) teams; (5) Chic Cicio, in 1956, the national AAU champion in free exercise and vaulting and Southern Intercollegiate All-Around champion, a member of the national gymnastics hall of fame, also served as "Sammy Seminole"; (6) Jack Sharp; Captain of the 1952 national championship team and national champion in the flying rings competition; and (7) Jay Ashmore, 1956 NCAA national champion in free exercise and All American in a number of other events in 1956 and 1957.
The list of NCAA All-Americans, in addition to the hall of famers, include Ronnie Amster (1956 & 57), Laird Anderson (1957 & 58), Dave Carmolli (1960), Bob Christians (1960), Jim Fadigan (1954 & 55), Dick Ireland (1952, 54 & 55), Rafael Lecuona (1955 & 57), Larry Maimlin (1958), Bob Murray (1957), Tom O'Connor (1959), Don Preisser (1957), Carmine Regna (1951 & 52), Joe Regna (1953), Al Ruda (1955), Jack Ryder (1959, 60, & 61), Pat Signorelli (1954), Jim Tanaka (1955), Joe Taylor (1955) and Larry Weston (1952 & 54).
It has been a half century since most of those great athletes competed in FSU uniforms. Memories have faded. Gosh, even most of the trophies that they won have tarnished or been lost. However, we will never lose the luster that they gave to FSU's athletics history. I hope that they are all well and happy. I am thankful that I got to witness some of their greatest moments.
This was originally printed in the September, 2007 Seminole Boosters Report To Boosters newspaper. The author and the Seminole Boosters have given their permission to reprint this article.