Seminole Spotlight
Jim Pavy...A Special Seminole
By Jim Joanos

9/2005
When James Samuel Pavy died recently, we lost an accomplished, loved, respected, and important member of the Florida State University sports community. Jim Pavy was an early basketball star at Florida State. Ironically, in each of the three seasons that he played, he was the first team member to score. He started his exemplary career at the institution even before it was named "Florida State University".
Intercollegiate basketball was first played by male students attending Florida State during the 1946-47 school year. However, the team that played that year was not officially a "Florida State University" team. In that school year, the institution on Westcott Hill was a woman's college and was named the "Florida State College for Women". Attached to FSCW, for that one year was an entity known as the "Tallahassee Branch of the University of Florida". "TBUF", as it was called, consisted of a small administrative staff and approximately 600 male students.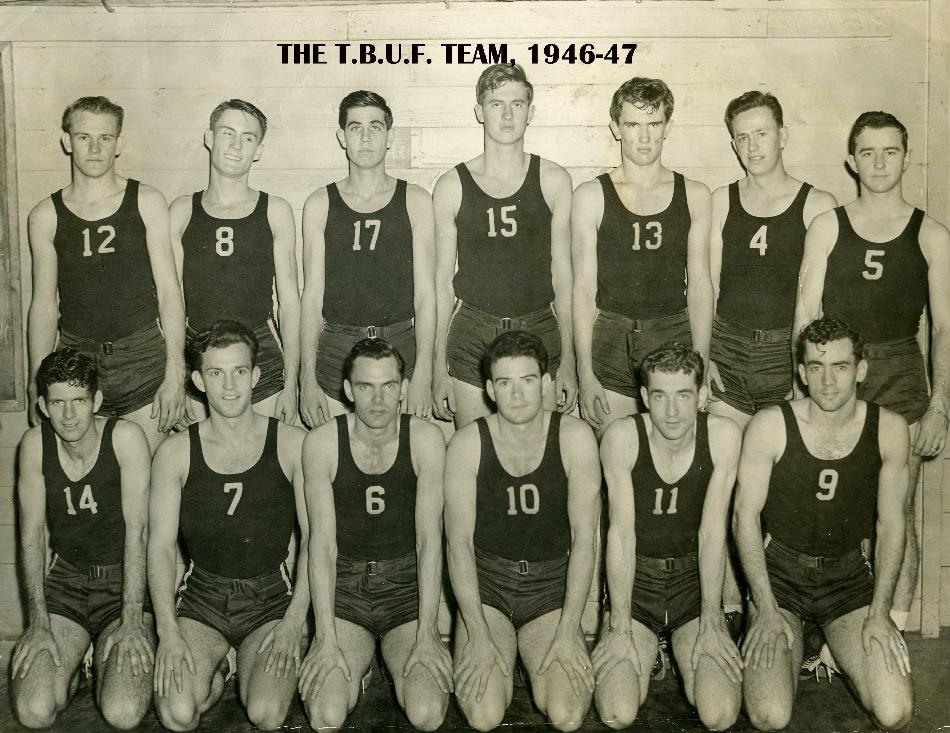 Jim Pavy wore number 11 in this team picture of the TBUF Basketball team.
The male students were housed on the west side of Tallahassee in what had been barracks for the former Army Air Corps' Dale Mabry Field. The men attended classes and participated in activities at FSCW, but were technically registered as students of the University of Florida. Most, like Jim Pavy, were World War II military veterans. The arrangement had come about because the University of Florida's Gainesville facilities could not accommodate all of the returning veterans who were given the opportunity to go to college because of the "G.I. Bill", a national enactment which funded educational pursuits for former military personnel.
In regard to athletics, TBUF primarily offered students an intramural program. The one sport that was an exception was basketball. For the 1946-47 season, TBUF fielded a team bearing the nickname "Golden Panthers" that played an assortment of colleges, junior colleges and independent amateur teams. The Golden Panthers team consisted mostly of freshmen with no collge basketball experience. Jim Pavy was one of them. The team was coached by Ed Williamson, the same Ed Williamson who later became FSU's first head football coach.
TBUF played its first game on January 15, 1947, in Tallahassee, when it beat a team made up of faculty members of an Albany (Georgia) High School that was named the "Albany Professors" 47 to 42. According to The Daily Democrat (now, The Tallahassee Democrat), Albany had "one of the strongest amateur teams in the State of Georgia" and was 3 - 0 coming into the game. At the end of the year, TBUF finished with a 4-7 record including a later loss at Albany, two victories over Norman Park Junior College, a split with the University of Tampa and two losses each to St. Petersburg Junior College and the Savannah Division of the University of Georgia as well as a loss to Florida Southern College in Lakeland.
TBUF played its home games at the old Dale Mabry gymnasium. That facility had an excellent playing surface but there was very little room for spectators. On the road, there were some interesting faciltities. At some of the places, the court was shorter than regulation and they had to use a double-center line. At other places, the games were played in school auditoriums.
Jim Pavy not only played on that TBUF team, but also played on the first two "official" FSU men's basketball teams. The first "official" Florida State University team began play during the 1947-48 school year, the same year that the school resumed intercollegiate football. It was the first year that the institution bore the name, "Florida State University" and included males officially as members of its student body. That team, coached by Don Loucks who had at one time been the plebe coach at West Point went 5-13 over an eighteen game schedule.
For his third and last season of college basketball in Tallahassee, Pavy, played under his third different head coach. J.K. "Bud" Kennedy took over as head coach at FSU for the 1948-49 season. Kennedy would coach FSU for eighteen years. In Pavy's last FSU season, the team split its games and ended with a 12-12 record.
At FSU, Pavy got both Bachelor's and Master's Degrees. He left FSU in 1950 and began coaching basketball and teaching at Malone High School. In three of the four years he coached at Malone, he won Florida state championships. He then moved to Chattahoochee where he coached both high school basketball and football. In 1956, he also won a state basketball championship there. Pavy then moved on and became the basketball coach at Chipola Community College in Marianna. He coached there for thrity-three years until he retired in 1988. He continued his success at Chipola and was competitive among the best junior college teams in the country.
Throughout his life, Jim Pavy was a staunch supporter of FSU Athletics. He always added a great deal of class to the basketball reunions and other FSU events that he attended. We shall miss him.
This was originally printed in the September, 2005 Wakulla Area Times newspaper. The author has given his permission to reprint this article.