Seminole Spotlight
Stars of Yesterday - Katherine Rawls
By Jim Joanos

02/2008
If a vote was taken to determine who was the greatest athlete to ever attend Florida State, who would you favor? Charlie Ward? Deion Sanders? Dave Cowens? Walter Dix? My vote would probably go to a lady who was only about five feet two inches tall and weighed about 107 pounds when she competed. Her name was Katherine Rawls and she attended Florida State during the 1936-37 school year when the school was a women's college known as "Florida State College for Women."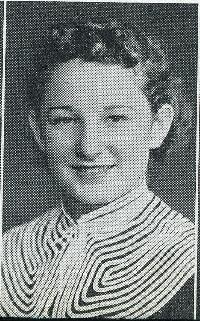 Katie Rawls
Katherine "Katie" Rawls was born in Nashville, Tennessee, on June 14, 1917. When she was five years old, her family moved to Florida. Her father was a road builder. As the family moved around the state where the roads were being built they lived in camps. The camps were often adjacent to lakes or rivers. There was lots of time, so she and her siblings did a lot of swimming. Soon all of the Rawls children (four girls and one boy) were swimming and diving competitively under the coaching of their father. Sometimes they were referred to as the "Rawls Water Babies". Katie, the oldest child, was the star of the group. Katie competed in her first national championship meet at the age of eleven in Miami Beach and won second place in diving. At age twelve, when she weighed eighty-six pounds, Katie won her first national championship in New York City. When she was thirteen, she won the national championship in the medley and broke the world record doing so. During the Depression, roadbuilding slowed down so her father became a farmer in the Belle Glade area and the family moved there. In 1933, the family moved to Fort Lauderdale. Throughout, Katie and her siblings continued competing.
From 1930 through 1939 Katie was considered the greatest woman swimmer of them all. She not only swam but was a diver as well. At age fourteen, she won a silver medal in springboard diving at the 1932 Olympics held in Los Angeles. She was the first woman from Florida to have membership on an Olympic swimming and diving team. In 1933, at age fifteen, she became the first woman ever to win national championships in four separate events in the same meet. The events included springboard diving, 200 meter breaststroke, half mile freestyle and 300 meter individual medley. She would repeat the four event national championships in a later meet. Throughout her career she won thirty-three national championships. She won another Silver Medal in springboard diving at the Berlin Olympics in 1936. In addition, at Berlin, she was on the bronze medal winning 440 meter swimming relay team and finished sixth in the 100 meter freestyle. For 8 years she was undefeated in the most versatile event, the individual medley (3 stroke).
At age nineteen, Katie entered FSCW as a student in the fall of 1936, one week after participating in her second Olympic games. You can imagine the attention that FSCW received by the media as America's best woman swimmer became a college student. It would be a busy school year for Katie who continued to compete nationally and internationally while in college.
Upon entering FSCW, Katie became a member of the school's lifesaving corps. To be a member of that prestigious organization, a student had to be an excellent swimmer and competent in lifesaving techniques. Needless to say, Katie qualified. The members served as lifeguards at Camp Flastacowo as well as at other student swimming excursions. One of the popular activities of the organization was to give demonstrations on proper lifesaving methods and boat-handling skills. The demonstrations included some "show business" and were well attended by the FSCW student body. On Thanksgiving morning of 1936, with Rawls' participation, the demonstration held that day reached extraordinary proportions. In addition to the other events, Rawls gave special presentations of the butterfly breaststroke, plain breaststroke, backstroke, and over arm stroke. In addition, she highlighted a diving program in which her performance was "encored again and again."
While an FSCW student in December of 1936, Rawls participated in a swim meet in Fort Lauderdale and set new national records in the breaststroke for 50 yards and for 50 meters. The competition in which the records were broken involved swimmers from 72 colleges and universities and 400 coaches. Rawls thereafter set a new breaststroke 50-yard world record at a meet in Cuba.
Katie did not continue at FSCW beyond the 1936-37 school year. Instead she married her coach, Ted Thompson, and added new emphasis to her national and international competition in swimming and diving. She continued to dominate. In 1937, the Associated Press selected Rawls as The Female Athlete of the Year. Other female athletes of the time over which she was selected included Babe Didrickson, Patty Berg, and Eleanor Holm. She continued to occupy center stage as the world's greatest woman swimmer until 1939 when the beginnings of World War II limited international competition and it became clear that there would be no Olympics in the foreseeable future. At this point, Katie, had won fourteen national outdoor and eleven indoor swimming championships, as well as five national diving titles, and who also held the world record in the individual medley, retired from competition and turned her attention to another activity, flying.
Her husband, Ted, in addition to coaching her, was a pilot and had operated a flight school. Katie learned to fly and became quite devoted to flying. They had a hangar and landing strip in the Fort Lauderdale area. Later, the Navy acquired the flight school as part of the war effort and Ted joined the British Air Force as a ferry pilot.
In 1942, Katie joined the Women's Auxiliary Ferrying Squadron (the "WAFS") as one of its twenty-five original members, and served our country during the war by ferrying war planes to combat areas for the Air Transport Command. After their service experiences, Ted and Katie were reunited but later divorced. In time, she married again and settled in White Sulphur Springs, West Virginia, where she became a pool manager and swim professional at a resort.
When the world Swimming Hall of Fame was established in 1965 in Fort Lauderdale, Katie was one of the twenty-one original inductees. The group included two other female swimmers, Gertrude Ederle and Dawn Fraser. Also on the list were two very well known men, Johnny Weissmuller and Don Schollander. The City of Fort Lauderdale gave special recognition to Katie on January 28, 1973, when the mayor dedicated that day as "Katherine Rawls Day."
Rawls retired in January of 1978 and returned to Florida, this time to Royal Palm Beach. In 1981, she had a series of surgeries regarding a brain tumor which ended in her death from cancer in 1982. Thus ended the life of one of Florida State University's greatest athletes.
This was originally printed in the February, 2008 Wakulla Area Times newspaper. The author has given his permission to reprint this article.