Seminole Spotlight
Stars of Yesterday - Art Adams
By Jim Joanos

03/2009
Art Adams has been a good citizen of this area. For over 34 years he labored in state service as a public administrator. For many years since he has served as a consultant to those making important decisions regarding their retirement from government employment. During it all, he has also taken time to serve his community in many ways. His community service has included taking on major leadership roles in various organizations including United Fund Drives, professional associations, a number of charities, the FSU Alumni Association, Seminole Boosters, FSU's letterman's club, and various FSU Basketball support groups. He is a good example of those hundreds of young people who first came to the Florida State University to participate in intercollegiate athletics and stuck around to make major contributions to the life that we know and love in the big bend area. His story is a good one.

Art Adams
When FSU became coeducational and began to recruit talent for its men's intercollegiate athletic teams in 1947 it had to start from scratch. There were no athletic scholarships and no reputation of historically established teams to help entice outstanding athletes to the campus. For the most part the school had to rely on a lot of just plain luck in landing talented players. However, there is a sports saying that "sometimes being lucky is better than being good". Such was the case in the acquiring of FSU's 1948-49 basketball team captain, Art Adams.
When Adams, a fifteen year old living in a tough Brooklyn, New York, neighborhood, was booted out of school, no one else would have predicted that he would have ever amounted to anything positive. But fortunately, for Adams and for those of us who have enjoyed knowing him through the years, he believed in himself and pulled himself up by the bootstraps.
The teenager got a tough job working on a tugboat in New York City's harbor for three years until he was old enough to join the Army in 1944. His harbor experience came in handy in the Army where he served as a salvage diver for the remainder of the war. In 1946 he was discharged with still no high school diploma. He found a program that although it required three days of intensive testing it did provide him with enough credit to be allowed to enter Findlay College in Ohio on "probation" and to play basketball. The G.I. Bill and odd jobs allowed him and his wife to get by financially for the two years they would spend at Findlay while he sought to become educated.
Sometime in 1948, he was contacted by his former childhood neighborhood YMCA basketball coach who was trying to get the former Y team together. They had all scattered during the war and the coach thought the group might enjoy taking a stab at the USA Olympic trials which at the time consisted of competing amateur teams. Surprisingly, the old Y team made it all the way to the finals in Madison Square Garden but just missed the chance to compete in the games that were held in London that year.
Adams had become pretty confident in his ability to play basketball. Consequently, when shortly thereafter he heard about a college in north Florida that had recently gone co-educational and needed basketball players he was interested and prevailed on some friends to get him a tryout. FSU had just made J. K. "Bud" Kennedy its head basketball coach. Adams and his wife quickly came to Tallahassee, where he tried out for and made the team. In short order, not only was he on the team but was selected team Captain.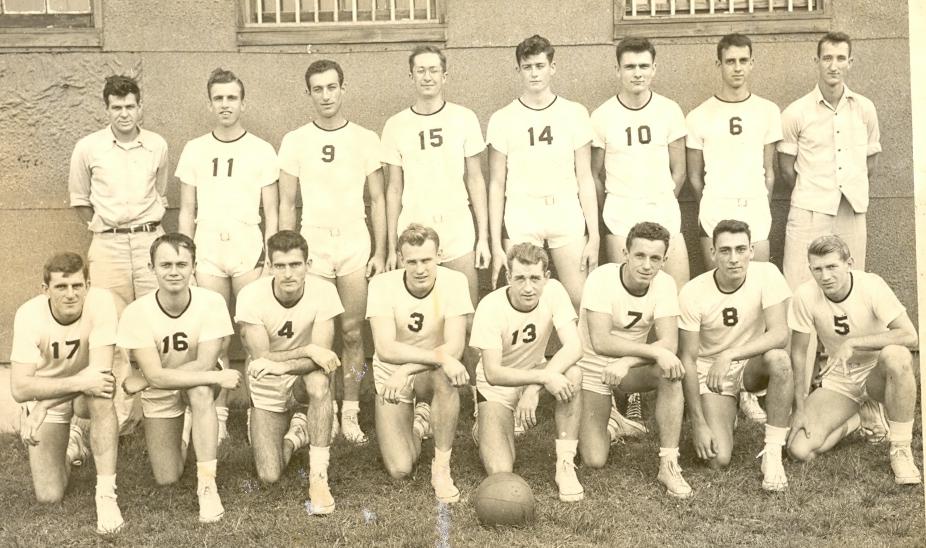 1948-49 Team
Click on photo to enlarge
The 1948-49 season of FSU basketball was not a great season for the Seminoles. They finished with a record of 12 wins and 12 losses. They swept rivals Troy and Stetson with two wins and no losses, split one game to one with Sewanee but lost two out of three to Tampa. The team did do much better than the year before when the start-up program had played an abbreviated schedule and gone 5-13 but it would be another year before the winning ways would begin for the Seminoles.
Despite his disastrous educational start in high school, Adams at FSU had become an outstanding student and graduated with a business degree after only three years of college following that 1948-49 season. Although he went on to enter FSU's graduate school and earn a master's degree, in those years the rules did not permit graduate students to play on college teams so Adams never got to play his senior year.
Adams and his wife stayed on in Tallahassee and raised their three kids here. One child, Steve, as his father had before him, also competed athletically for FSU as an outstanding middle distance runner on the track and field team. Adams career as a public administrator through the years has included positions as Chief of Personnel and Training for the Florida Industrial Commission, FSU's Personnel Director, Personnel and Training Officer of the Florida Division of Youth Services, Personnel Management Director for the state's Health and Rehabilitative Services Department, and as Assistant to the President of Florida A & M University.
He continues to this day as an ardent fan of FSU and as a valuable contributor dedicated to the betterment of our community. Life is strange. Few would have believed that a fifteen year old boy getting kicked out of school in Brooklyn would end up being a good thing for FSU and the Big Bend of Florida.
This was originally printed in the March, 2009 Wakulla Area Times newspaper. The author has given his permission to reprint this article.