Seminole Spotlight
2009 Seminole Cruise
By Jim Joanos

04/2009
For Floridians, having access to cruise ship activity is convenient. Many of the outstanding vacation ship lines operate out of Florida seaports. Some FSU folks have taken advantage of the situation through the years. In the spring of each of the last nineteen years, some members of the football coaching staff along with their spouses and a number of fans have enjoyed a week long vacation together aboard ship. Most of the trips like the one last month go in and out of a Florida port and visit several locations in the Caribbean. The cruise also serves to raise money for a needy children's charity.
The cruise offers the coaches a chance to relax with their wives and friends following the hectic fall football season, recruiting, mat drills, and the beginnings of spring practice. It serves as a nice break before spring practice, the Garnet and Gold game, more recruiting, studying, watching film and preparing for the next season. For the fans, it offers a rare opportunity to get to know more about FSU football and the coaches who direct it. The program aboard ship includes talks, seminars, question and answer sessions, all about FSU football, as well as the onshore excursions to some pretty nice and interesting geographic locations. Nightly dinners with your favorite coaches are high on the list of enjoyable and informative activities. If you look and listen, you can learn a lot about FSU football.

Bobby Bowden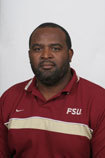 Odell Haggins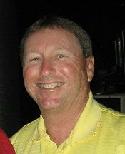 Randy Oravetz
Head Coach Bobby Bowden is very much alive and well. Surrounded by old friends including several of the guys he coached as far back as the fifties at South Georgia Junior College when he first started coaching, he is most relaxed and high spirited. It is amazing how after all that he has experienced he has not really changed. Everybody is still, "Buddy" or "Gal" to him; he has no airs; and is still patiently willing to sign anything that you put in front of him and thank you for being there.

Mickey Andrews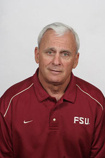 Rick Trickett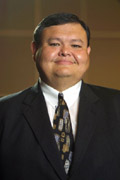 Clint Purvis
Defensive Coordinator Mickey Andrews is very much like a "senior statesman." He still talks with a southern drawl but folks listen to every word he says because he has proven that you can do great things the right way and do not have to take shortcuts. He and wife Diane have been married nearly 48 years. He says that some of the "best times of their lives" have been at FSU where he has coached since 1984. He notes that our country is going through some "tough" times but "we will get through it." It is easy to see why men that he has coached through the years think so highly of him.
Defensive line coach Odell Haggins bleeds garnet and gold. He is entering his twentieth year at FSU as a player and a coach. An All-American defensive tackle in 1988 and 89, he has coached for the Seminoles since 1994. He says his goal as a coach is for FSU is "to get better than we used to be, not just the same." I like his spirit.
Offensive line coach Rick Trickett has added a fresh, new dimension to FSU football. He combines a great sense of humor and some good old common sense. It is amazing how in just two years he has converted an offensive line from being the team's biggest weakness into its strongest attribute. Not only that but he is a most interesting character. A former combat marine, for relaxation he loves to ride his Harley. An overachiever all of his life, he has a beautiful wife and three very poised and accomplished sons. His oldest is a volunteer Graduate Assistant at FSU helping with the offense. His youngest is the quarterback for North Florida Christian School in Tallahassee who was awarded the High School Offensive Player of the Year trophy by the Tallahassee Quarterback Club last year for helping lead his team to the state championship. The youngest Trickett has already received a stack of scholarship offers to play college football beginning in 2010.
Head Trainer and Director of Sports Medicine Randy Oravetz is entering his 31st year working for FSU. A member of the Hall of Fame of the Athletic Trainers' Association of Florida, he oversees FSU's entire sports medicine system which also includes nine assistant athletic trainers and a host of others. Do not ever underestimate the importance of a good training staff to a major college sports program. Just as a small example of the need for good care, last year alone 22 football players were injured to the extent that they had to have surgeries not to mention the additional ones that had injuries requiring less treatment. Orvaetz and his spouse have been married for 22 years and have two sons. The youngest, Tommy, is a member of the FSU baseball team.
A somewhat unique aspect of the FSU football program is the role that Team Chaplain Clint Purvis performs. There is a very serious spiritual element in modern day college football. Because the stakes are so high, the pressure so great, and physical and time requirements so overwhelming, there is apparently a great need for those involved to have a trusted friend. That is so in regard to both the players and the coaches. Purvis fills that need for the FSU team. Several of the coaches mentioned how important he was to the team. A former player spoke of the importance of a bible that he had received from Purvis years ago. Another assistant coach talked of praying with Purvis on game days.
Another purpose the cruise served was to fire up fans for the coming season. Bring on Labor Day and the Miami Hurricanes!
This was originally printed in the April, 2009 Wakulla Area Times newspaper. The author has given his permission to reprint this article.