Seminole Spotlight
Stars of Yesterday - Corey Simon
By Jim Joanos

11/2009
Corey Simon was recently the speaker at a meeting of the Tallahassee Quarterback Club. He gave an inspiring talk about how as an only child in a single parent family he had been raised in the projects of the Pompano Beach area and gone on to play for mighty Florida State and in the National Football League. His comments were laced with a show of affection for FSU and for his coach, Bobby Bowden, whom he considered as the "next best thing" that he ever had to a father.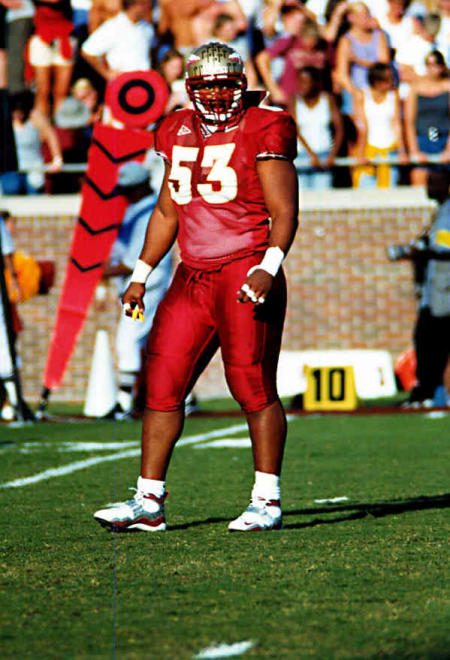 Corey Simon
Florida State University is regarded by many as having had the most successful major university football program of them all in the 1990's. Corey Simon is a prime example of the kind of football player that came to FSU, starred and provided the leadership that made that level of football possible.
As a high school football player at Ely High School in Pompano Beach, he was one of the most highly recruited football players in the nation. The Miami Herald named him the 1994 Defensive Player of the Year. USA Today named him to its All USA team. He could have gone anywhere he wanted to college. Originally, he signed with the University of Georgia but later changed his mind and came to FSU.
Simon sat out his first season (1995) at FSU because of the transfer rules that applied to his change from Georgia to FSU. In 1996, he played in three of the first five games before surgery for a shoulder injury ended his season prematurely.
His stardom at FSU began in the 1997 season when although missing a couple of games during the season because of a neck injury he contributed heavily to the FSU team that went 11-1 that year, beat Ohio State in the Sugar Bowl, and was ranked third in the nation at the end. That year he shared duties as the team's nose guard and gave a glimpse of things to come.
In 1998, again as a nose guard, he established himself as one of the best defensive linemen in the country. He excelled playing for an FSU team that went 11-1 during the regular season and played for but lost the national championship game to Tennessee in the Fiesta Bowl at the end. Honors rained upon Simon as he was selected to the All ACC first team, but more importantly he became a first team Associated Press All American. Of special note, he was awarded one of the ACC's most important awards, the Brian Piccolo award in recognition of his having made a most courageous recovery from injury to compete on the football field.
In his senior season at FSU, 1999, he was the defensive captain of FSU's dream team, the one that went undefeated, untied and beat Virginia Tech for the national championship. Post season honors again poured down upon him for his valuable contributions to the team's success which included tying Ron Simmons' school record of 44 tackles behind the line of scrimmage. He was selected as a Consensus All-American, First Team All-ACC, Runner-up for the Lombardi Award, and a finalist for the Outland Trophy. He was generally regarded as the "most dominating defensive lineman in college football".
When the 2000 Draft day came, he was eagerly taken by the Philadelphia Eagles as their first pick, the sixth overall of the draft. His professional football career was composed of five seasons with Philadelphia including a Pro Bowl selection in 2003, two seasons with the Indianapolis Colts including the 2007 Super Bowl, and one with the Tennessee Titans. Throughout his pro career, as in college, he was plagued with injuries which limited his abilities as well as his accomplishments. Finally, in 2007 while with the Tennessee Titans he announced his retirement giving Poly Arthritis as the cause.
His professional football career behind him, Simon's love for FSU and our area of the world brought him and his family back to this area two years ago to establish roots. He works as a partner in an insurance company that does business on college campuses. He and his wife are involved in a medical transportation company. He also takes time to give back to the community by serving as a volunteer little league football coach and in other endeavors. He is an excellent example of the good that can come from someone with a humble background who has their head screwed on right when given the chance. It was an inspiring evening!
This was originally printed in the November, 2009 Wakulla Area Times newspaper. The author has given his permission to reprint this article.