Seminole Spotlight
FSU Volleyball Hall of Fame Members
By Jim Joanos

12/2009
Florida State University's volleyball team has made quite a splash this year. As I write this column, they boast a won-loss record of 25 wins and only 2 losses. They lead the Atlantic coast Conference and are ranked fifteenth nationally. It seems like a good time to take note of some of the folks who have been important in developing this outstanding volleyball program at FSU. So far, Women's Volleyball at FSU (note: I write "women's volleyball" because from 1947 through 1956 FSU had a men's volleyball varsity team) has directly produced five members of the FSU Athletics Hall of Fame. Membership in the hall of fame is FSU's method of honoring those who have been very important in the school's athletic endeavors.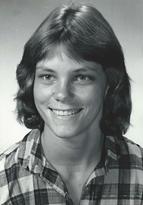 Margie Wessel Scott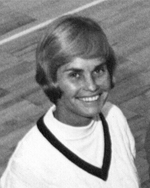 Dr. Billie Jo Jones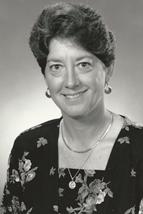 Dr. B. Cecile Reynaud
Margie Wessel Scott from Miami, played four years at FSU, from 1977 to 1980. During her four years the team went 127-60. She was the team's most valuable player in each of her last three seasons. Twice during her tenure, the team made it to the post season AIAW national tournaments. In both 1979 and 1980, she was selected for the AIAW Region III All-Star team. Interestingly, a few years later, her brother, Joe Wessel, was an outstanding FSU football letterman for three seasons from 1982 through 84. He is especially remembered for his talent as a punt blocker.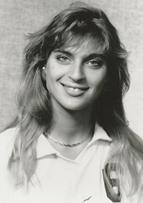 Gabrielle Reece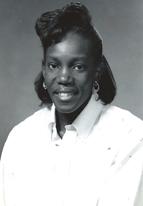 Maggie Philgence
Gabrielle Reece is FSU's best known volleyball alumnus. She played for the Seminoles from 1987 to 1990. She still holds most of the school records for blocks. She was an All-Metro Conference All-Star for 1989 and 1990 as well as a member of the AVCA All-Region team in 1990. In 1989, Reece was awarded the Dodge National Athletics Award as the Most Inspiring Collegiate Athlete, and named as one of Rolling Stone's Wonder Women of Sports. She went on after college to play professional beach volleyball and served as the Captain for the famous Team Nike. In addition to her many accomplishments as a volleyball player, she has also served as a world renowned supermodel, has been on the cover of numerous magazines, has had her own television show and been an overall role model for women's athletics. The best part of it is that she has continued her ties with FSU and frequently comes back to campus to attend and assist with the promotion of FSU athletic events.
Billie Jones who got her Ph.D from FSU in 1972, was a long time member of the university's physical education faculty. She was one of the main leaders in the establishment of intercollegiate women's athletics at the school. In addition to numerous other leadership roles she served as head coach of the volleyball team in 1970 and from 1972 through 75 and as softball head coach in 1971 and 1973 through 74. Under her leadership the volleyball team compiled a record of 107 wins and only 22 losses. Her teams made it to the AIAW national post season tournaments in 1973, 74, and 75.
Maggie Philgence one of FSU's best ever players competed for the Seminoles from 1987 to 90. In her senior season, she set a number of records. Some of them continue to exist. She still holds the records for career kills (2,110) and kill attempts (4,793). She was selected to the All Metro Conference and AVCA All South Region teams in 1990.
Cecile Reynaud came to FSU in 1976, a year after graduating from college at Southwest Missouri State. She served as the school's head volleyball coach for 26 years from 1976 through 2001. She took Seminole teams to the AIAW post season tournaments three times while FSU still competed under that organization's jurisdiction. After FSU shifted over to the National Collegiate Athletic Association, her teams went to the NCAA tournaments ten times. Her teams won six Metro Conference and one Atlantic Coast Conference championships. She was named the conference coach of the year by the Metro Conference in 1988 and 89, and by the ACC in 1992 and 2000. She was also recognized as the 1989 AVCA South Region Coach of the Year. In 1996 she was presented the prestigious George Fischer Leader Award at the USA National Volleyball meeting for her many contributions to the sport of volleyball.
There are many others who have made contributions toward building FSU's outstanding volleyball program. In the future, there will be many more who will join this list of FSU volleyball greats who have been honored by entry into the Hall of Fame. That is especially likely to happen if the team keeps winning as it is doing now. Go Seminoles!
This was originally printed in the December, 2009 Wakulla Area Times newspaper. The author has given his permission to reprint this article.