Chic Cicio has been an enthusiastic leader for physical fitness for 40 years. A perfectionist in gymnastics, he always led by doing. In his years at Florida State University, he led the Seminoles by winning many championships, including the 1956 National AAU Free Exercise Competition and placed first in vaulting in an International meet against Cuba. He was a runner-up in free exercise events at the National AAU Meet in 1957 where he came in sixth in the All-Around Event.

In regional meets, Chic was the Southern Intercollegiate All-Around Champion in 1956 and in the Florida AAU meet he won five first places and was the All-Around Champion. Cicio was a gymnastics All-American and has been inducted into the National Gymnastics Hall of Fame.

Cicio has always been a coach. As a student he was an assistant coach to his teammates, an important contributor to the youth in Florida State University's nationally known Gymkana Program. Later as a Counselor/Coach in Dade County Public Schools he instructed swimmers and divers as well as gymnasts. After college, Cicio stayed in good enough shape to win third place in the Free Exercise Event in the 1967 National Professional Gymnastics Tournament.

Well rounded, he won the "Most Muscular Man" trophy in the Mr. Florida contest of 1958 while representing Florida State University. As a senior, in 1959 he was runner-up in the "Mr. South" bodybuilding championships, found time to perform in several musical productions and was featured at FSU football games as Sammy Seminole.
---
Obituary for Casper I. "Chick" Cicio
Published by J Collins Funeral Home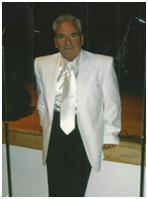 Mr. Casper I. " Chick" Cicio, age 86, of Villa Rica, passed away Monday, January 19, 2015.
Casper was born in Brooklyn, New York on January 4, 1929, the son of the late Louise Parente Cicio and Edward Cicio. He was Catholic by faith and attended Our Lady of Perpetual Help in Carrollton, Georgia. Before moving to Georgia he was a member of St. Edwards Catholic Church in Pembroke Pines where he was a longtime member of the Church Choir.
He attended Florida State University and received his Bachelor of Science Degree in Education and his Master of Arts in Education from Western Carolina College. While attending Florida State University enjoyed much success as a Gymnast and was later inducted into The FSU Hall of Fame. He taught school for a number of years in the Miami School District and also coached gymnastics.
Casper was a Veteran, having served our country in the United States Navy for two years on the battleship, USS Intrepid.
Survivors include his wife, Jennie Cicio of sixty four years, daughter, Christine Obenauer, Villa Rica, Georgia; sister, Nina Vizzini, Cooper City, Florida and brother, Vincent Cicio, Plantation, Florida, three grandchildren, Kevin and Leah Cicio, Odessa, Texas, Amy Obenauer McGee (Josh), Flowery Branch, Georgia, and two great grandchildren, Kate and Abby McGee, Flowery Branch, Georgia.